Faktor Yang Mempengaruhi Wanita Usia Subur Dalam Melakukan Tes Inspeksi Visual Asam Asetat (IVA)
Suci Nurjanah

Program Pasca Sarjana Institut Kesehatan Helvetia Medan

Asriwati Asriwati

Dosen Magsiter Ilmu Kesehatan Masyarakat Institut Kesehatan Helvetia

Jitasari Tarigan Sibero

Dosen Magsiter Ilmu Kesehatan Masyarakat Institut Kesehatan Helvetia
Abstract
Cervical cancer is the second most found cancer in women in the world. About 500,000 new cases of cervical cancer occur each year and three-quarters occur in developing countries. However, this cervical cancer can often still be cured if found early with the method of Visual Acetate Acid Inspection (IVA). The scope of implementation of Sapat Health Center IVA in 2019 for women of childbearing age aged 30-50 is 20.95%. The purpose of this study was to determine the factors that influence women of childbearing age in conducting the Acetic Acid Visual Inspection test. This type of research is quantitative with cross sectional approach. The population is all women of childbearing age aged 30-50 years as many as 3240 people. The sample of this research is 97 respondents with Proposional Random Sampling technique. Data analysis used univariate, bivariate (Chi Square test), and multivariate analysis (multiple logistic regression tests). The results showed that factors influencing women of childbearing age in conducting IVA were attitudes p value 0.001, cadre support p value 0.021, and sources of information p value 0.036. While the factors that have no effect are knowledge, husband's support, and perception. The most dominant factor influencing was cadre support with an OR value of 14,144 (95% CI = 1501-133,286). The conclusion of this study is that women of childbearing age in conducting IVA tests are influenced by attitudes, cadre support and information sources. It is recommended that Puskesmas, especially health workers, be able to work closely with cadres and across sectors in developing cadres as an effort to support IVA health promotion so that the coverage of IVA tests in the area of ​​Puskesmas Sapat's technical support units can be carried out thoroughly.
References
1. Dewi L. Faktor-Faktor yang Berhubungan dengan Perilaku Wanita Usia Subur dalam Deteksi Dini Kanker Serviks dengan Metode Pemeriksaan Inspeksi Visual Asam Asetat (IVA) di Wilayah Kerja Puskesmas Tanjung Hulu Pontianak Timur Tahun 2014. J ProNers. 2014;1(1):20-28.

2. Muhamad, Z., Hadi, A. J. & Yani, A. Pengetahuan Dan Sikap Remaja Putri Dengan Pencegahan Keputihan Di Mts Negeri Telaga Biru Kabupaten Gorontalo. Promot. J. Kesehat. Masy. 2019;9(1): 9–19.

3. Novitasari K, Nurlinda A, Ahri R. Consumption Of Transfer Factor Belle Vie On The WUS With Menstrual Disorders In The City Of Makassar. Window of Health : Jurnal Kesehatan [Internet]. 25Oct.2018 [cited 23Jul.2020];1(4):318-27. Available from: http://jurnal.fkmumi.ac.id/index.php/woh/article/view/woh1402.

4. Lestari, T. W. Buku Ajar Kesehatan Reproduksi Berbasis Kompetensi. Jakarta: Penerbit EGC. 2016.

5. Nasifah I, Khalifah SN, Hayati EK. Synthesis and Characterization of Mesoporous NaX Zeolite from Kaolin Loading of Soursop Leaves Extract (Annona muricata Linn.). ALCHEMY. 2018;5(3):100–5.

6. Bray F, Ferlay J, Soerjomataram I, Siegel RL, Torre LA, Jemal A. Global Cancer Statistics 2018: GLOBOCAN Estimates of Incidence and Mortality Worldwide for 36 Cancers in 185 Countries. CA Cancer J Clin. 2018;68(6):394–424.

7. Dianti NR, Isfandiari MA. Perbandingan Risiko Ca Serviks Berdasarkan Personal Hygiene Pada Wanita Usia Subur di Yayasan Kanker Wisnuwardhana Surabaya Cervical Cancer Risk Difference Based on Personal Hygiene Among Childbearing Age Women At Yayasan Kanker. J Kesehat Masy. 2015;5(2):82–91.

8. Hilir, D. K. K. I. Laporan Cakupan Pelayanan IVA Kabupaten Indragiri Hilir Tahun 2016. 2017.

9. Yusriani Y, Alwi MK. Community Empowerment Model Based On Local Wisdom As An Effort To Reduce Maternal Mortality Rate in Jeneponto Regency. International Seminar on Public Health and Education 2018 (ISPHE 2018) 2018 May. Atlantis Press.

10. Notoatmodjo, S. Promosi Kesehatan Dan Perilaku Kesehatan. Jakarta: Rineka Cipta. 2012;45–62.

11. Romalita Y, Yusriani Y, Alwi MK, Serawati S. Implementasi Prinsip Keterbukaan dalam Pemberdayaan Terhadap Keaktifan Kader Kesehatan untuk Mencegah Risiko Kematian Ibu. Jurnal Penelitian Kesehatan" SUARA FORIKES"(Journal of Health Research" Forikes Voice"). 2019;11(1):39-42.

12. Septadina, Seta I. Upaya Pencegahan Kanker Serviks Melalui Peningkatan Pengetahuan Kesehatan Reproduksi Wanita Dan Pemeriksaan Metode Iva (Inspeksi Visual Asam Asetat) di Wilayah Kerja Puskesmas Kenten Palembang. Jurnal Pengabdian Sriwijaya. 2015;3(1):224-228.

13. Aziyah A, Sumarni S, Ngadiyono N. Faktor Resiko yang Berhubungan dengan Kejadian Kanker Servik : Studi Kasus di RSUP Dr. Kariadi Semarang. J Ris Kesehat. 2017;6(1):20–25.

14. Jasa NE. Determinan yang Berhubungan dengan Kejadian Kanker Serviks pada Wanita di Poli Kebidanan RSUD DR. H. Abdul Moeloek Propinsi Lampung. J Kesehat. 2015;7(3):445–454.

15. Wahyuningsih T, Mulyani EY. Faktor Risiko Terjadinya Lesi Prakanker Serviks Melalui Deteksi Dini Dengan Metode Iva (Inspeksi Visual Dengan Asam Asetat). Forum Ilm. 2014;11:192–209

16. Makuza JD, Nsanzimana S, Muhimpundu MA, Pace LE, Ntaganira J, Riedel DJ. Prevalence and Risk Factors for Cervical cancer and Pre-cancerous Lesions in Rwanda. Pan Afr Med J. 2015;12(1):23-37.

17. Reis N, Kizilkaya Beji N. Risk Factors for Ovarian Cancer: Results from a Hospital- Based Case-Control Study. Turkiye Klin J Med Sci [Internet]. 2010;30(1):79–87. Available from: http://www.tipbilimleri. turkiyeklinikleri.com/abstract_57239.html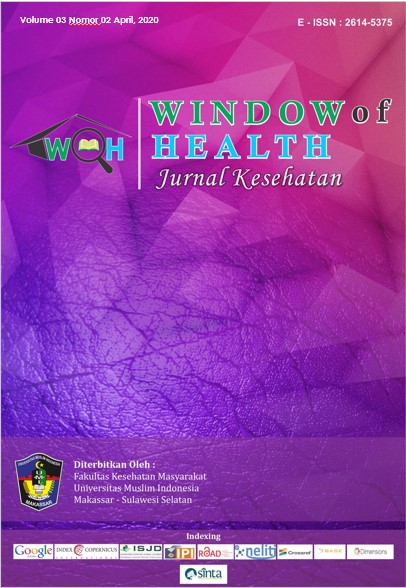 How to Cite
Nurjanah, S., Asriwati, A., & Sibero, J. (2020). Faktor Yang Mempengaruhi Wanita Usia Subur Dalam Melakukan Tes Inspeksi Visual Asam Asetat (IVA). Window of Health : Jurnal Kesehatan, 218-226. https://doi.org/https://doi.org/10.33368/woh.v0i0.310
This work is licensed under a Creative Commons Attribution-ShareAlike 4.0 International License.
All articles published Open Access are free for everyone to read and download. Under the CC-BY-SA license, authors retain ownership of the copyright for their article, but authors grant others permission to use the content of publications in WoH in whole or in part provided that the original work is properly cited.
Users (redistributors) of WoH are required to cite the original source, including the author's names, WoH as the initial source of publication, year of publication, and volume number