Penerapan Jaga Jarak Mahasiswa Indonesia Pada Masa New normal Covid-19
Kiki Kristiandi

Politeknik Negeri Sambas

Andi Eka Yunianto

Program Studi Gizi, Fakultas Ilmu Kesehatan, Universitas Tasikmalaya

Made Darawati

Program Studi Gizi, Poltekkes Kemenkes Mataram

Tetty Herta Doloksaribu

4 Program Studi Gizi, Poltekkes Kemenkes Medan

Ike Anggraeni

Program Studi Kesehatan Masyarakat, Universitas Mulawarman

Muksin Pasambuna

Program Studi Gizi, Poltekkes Kemenkes Manado

Oon Fatonah Akbarini

Program Studi Kebidanan, Poltekkes Kemenkes Pontianak
Abstract
Adaptation to new habits (new normal) is a policy issued by the government and allows people to be able to carry out activities in general by implementing health protocols. The purpose of this study was to analyze the application of distancing Indonesian students during the new normal Covid-19 period. This study used a cross-sectional study design and data collection through the distribution of online questionnaires. The data analysis used the univariate test with 5924 respondents. The results showed that there were a total of 3982 respondents who were health majors with undergraduate degrees as many as 2529 and lived in family homes as many as 2715 (p = 0.000). And there was a real relationship between the variable online taxi with distance maintenance and online motorcycle taxi using a helmet (p = 0.007). The same was true for the variable hand-sanitizer online taxis (p = 0.000), non-cash online ojek (p = 0.001), online non-cash taxis (p = 0.002). This also has a significant relationship in the online taxi variables touching the handle, money transactions, touching equipment, keeping your distance, the crowd, masks, handshakes, still wearing masks, touching family members, and sneezing with p = 0.000. Based on these results, it shows that overall the level of Indonesian students can adjust to the adaptation of new habits during the Covid-19 period by still paying attention to the applicable health protocols and according to the direction of the government.
References
1. (WH 2020), (Putsanra 2020), (Davis 2009)., (Buheji & Ahmed 2020)., William E, Hamonangan B. COVID-19 dan New Normal ( Sudut Pandang Sosiologis ). 2020;(June). doi:10.13140/RG.2.2.29774.08009
2. Kebede Y, Yitayih Y, Birhanu Z, Mekonen S, Ambelu A. Knowledge, perceptions and preventive practices towards COVID-19 early in the outbreak among Jimma university medical center visitors, Southwest Ethiopia. PLoS One. 2020;15(5):1-15. doi:10.1371/journal.pone.0233744
3. Coroiu A, Moran C, Campbell T, Geller AC. Barriers and facilitators of adherence to social distancing recommendations during COVID- 19 among a large international sample of adults. PLoS One. 2020;15(10 October):1-20. doi:10.1371/journal.pone.0239795
4. Rosidi A, Nurcahyo E. Penerapan New Normal (Kenormalan Baru) Dalam Penanganan Covid-19 sebagai Pandemi Dalam Hukum Positif. NASPA J. 2020;42(4):1.
5. O'Brien A. Covid 19: Transcending social distance. J Psychiatr Ment Health Nurs. 2020;(April):12648. doi:10.1111/jpm.12648
6. Moussaoui A, Hadi Zerga E. Transmission dynamics of COVID-19 in Algeria: The impact of physical distancing and face masks. AIMS Public Heal. 2020;7(4):816-827. doi:10.3934/publichealth.2020063
7. Fitria L, Ifdil I. Kecemasan remaja pada masa pandemi Covid -19. J Educ J Pendidik Indones. 2020;6(1):1. doi:10.29210/120202592
8. Sun C, Zhai Z. Since January 2020 Elsevier has created a COVID-19 resource centre with free information in English and Mandarin on the novel coronavirus COVID- 19 . The COVID-19 resource centre is hosted on Elsevier Connect , the company ' s public news and information . 2020;(January).
9. Koh WC, Naing L, Wong J. Estimating the impact of physical distancing measures in containing COVID-19: An empirical analysis. Int J Infect Dis. 2020;100:42-49. doi:10.1016/j.ijid.2020.08.026
10. UNESCO. A Complex Formula.; 2015.
11. OECD. Country Note – Results from PISA 2015: Indonesia. Oecd. Published online 2016:1-8.
12. Ulfa ZD, Mikdar UZ. Dampak Pandemi Covid-19 terhadap Perilaku Belajar, Interaksi Sosial dan Kesehatan bagi Mahasiswa FKIP Universitas Palangka Raya. J Sport Sci Educ. 2020;5(2):124-138.
13. Bausch DG. Precision physical distancing for COVID-19: An important tool in unlocking the lockdown. Am J Trop Med Hyg. 2020;103(1):22-24. doi:10.4269/ajtmh.20-0359
14. Götzinger F, Santiago-García B, Noguera-Julián A, et al. COVID-19 in children and adolescents in Europe: a multinational, multicentre cohort study. Lancet Child Adolesc Heal. 2020;4(9):653-661. doi:10.1016/S2352-4642(20)30177-2
15. Sheng WH. Coronavirus disease 2019 (covid-19). J Intern Med Taiwan. 2020;31(2):61-66. doi:10.6314/JIMT.202004_31(2).01
16. Yaumi M. the Implementation of Distance Learning in Indonesian Higher Education. Lentera Pendidik J Ilmu Tarb dan Kegur. 2007;10(2):196-215. doi:10.24252/lp.2007v10n2a6
17. Mishra M, Majumdar P. Social Distancing During COVID-19: Will it Change the Indian Society? J Health Manag. 2020;22(2):224-235. doi:10.1177/0972063420935547
18. Snape MD, Viner RM. COVID-19 in children and young people. Science (80- ). 2020;370(6514):286-288. doi:10.1126/science.abd6165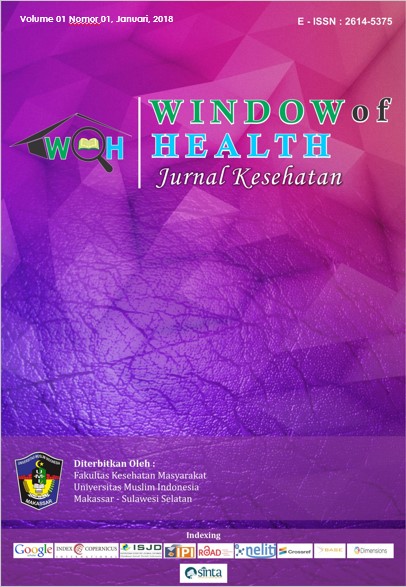 How to Cite
Kristiandi, K., Yunianto, A., Darawati, M., Doloksaribu, T., Anggraeni, I., Pasambuna, M., & Akbarini, O. (2021). Penerapan Jaga Jarak Mahasiswa Indonesia Pada Masa New normal Covid-19. Window of Health : Jurnal Kesehatan, 161-169. Retrieved from https://jurnal.fkmumi.ac.id/index.php/woh/article/view/579
This work is licensed under a Creative Commons Attribution-ShareAlike 4.0 International License.
All articles published Open Access are free for everyone to read and download. Under the CC-BY-SA license, authors retain ownership of the copyright for their article, but authors grant others permission to use the content of publications in WoH in whole or in part provided that the original work is properly cited.
Users (redistributors) of WoH are required to cite the original source, including the author's names, WoH as the initial source of publication, year of publication, and volume number