Faktor Faktor Yang Mempengaruhi Intensi Mahasiswa Dalam Penerapan Protokol Kesehatan Dalam Pencegahan Penularan Covid 19
ikhsan Fuady

universitas padjadjaran

Titin Yusnita Yusnita

Komunikasi Penyiaran Islam, INAIS Sahid Bogor

Ditha Prasati
Abstract
The application of health protocols is important in preventing widespread Covid 19 transmission. Many factors influence the community in complying with this health protocol. This study aims to analyze the factors that influence the intention (intention) of students in following health protocols in life, as an effort to prevent covidal transmission19. This study was designed as a quantitative study with a survey approach. This research was conducted in April 2020 until May 2020. The population and sample of this study were students who lived in Bogor Regency. In answering the research objectives, data analysis used is multiple linear regression analysis. The findings of this study indicate that in general the intention (intention) of students to implement health protocols in life is relatively high and medium categorized. Factors influencing student intentions in implementing behavior according to health protocols are student attitudes about the importance of the behavior, as well as perceptions of personal control.
References
1. Yunus NR, Rezki A. Kebijakan Pemberlakuan Lock Down Sebagai Antisipasi Penyebaran Corona Virus Covid-19. SALAM J Sos dan Budaya Syar-i. 2020;7(3). doi:10.15408/sjsbs.v7i3.15083
2. Kraemer MUG, Yang CH, Gutierrez B, et al. The Effect of Human Mobility and control Measures on the COVID-19 epidemic in China. Science. 2020;497(May):493-497. doi:10.1126/science.abb4218
3. Kemenkes RI. 1 Surat Edaran Dirjen P2P Nomor HK0202II7532020 Tentang Revisi ke-3 Pedoman Kesiapsiagaan Menghadapi Infeksi Novel Corona Virus COVID-19.pdf. Published online 2020.
4. Chan K. Mass Communication and Pro Environmental Behaviour: Waste recycling in Hong Kong. J Environ Manage. 1998;52(4):317-325. doi:10.1006/jema.1998.0189
5. Carfora V, Caso D, Sparks P, Conner M. Moderating effects of Pro-Environmental Self-Identity on Pro- Environmental Intentions and Behaviour : A Multi-Behaviour Study. J Environ Psychol. 2017;53:92-99. doi:10.1016/j.jenvp.2017.07.001
6. Ajzen I. Consumer Attitudes and Behavior : The Theory of Planned Behavior Applied to Food Consumption Decisions. Published online 2015:121-138. doi:10.13128/REA-18003
7. Armitage CJ, Conner M. Efficacy of the Theory of Planned Behaviour : A Meta-Analytic Review E Y cacy of the Theory of Planned Behaviour : A meta-analytic review. Br J Soc Psychol. 2001;(July 2017):471-499. doi:10.1348/014466601164939
8. Chatzisarantis NLD, Hagger MS, Wang CKJ, Thøgersen-Ntoumani C. The effects of social identity and perceived autonomy support on health behaviour within the theory of planned behaviour. Curr Psychol. 2009;28(1):55-68. doi:10.1007/s12144-009-9043-4
9. Hagger M. Current Issues and New Directions in Psychology and Health: Physical Activity Research Showcasing Theory Into Practice. Psychol Heal. 2010;25(1):1-5. doi:10.1080/08870440903268637
10. Noar SM, Zimmerman RS. Health Behavior Theory and cumulative Knowledge Regarding Health Behaviors: Are We Moving in The Right Direction? Health Educ Res. 2005;20(3):275-290. doi:10.1093/her/cyg113
11. Wise T, Zbozinek TD, Michelini G, Hagan CC, Mobbs D. Changes in Risk Perception and protective Behavior During The First Week of The Covid-19 Pandemic in the United States. PsyArXiv [working Pap. 2020;(4):1-13. doi:10.31234/OSF.IO/DZ428
12. Suherman A, Sultan MI. Pemilih Pemula. Kareba. 2014;3(4):235-242.
13. Fuady I, Prasanti D. Pengaruh Sikap , Norma Sosial , Persepsi Perilaku terhadap Intensi. Al MA' ARIEF J Pendidik Sos dan Budaya. 2019;1(2).
14. Iversen H, Rundmo T. Attitudes Towards Traffic Safety, Driving Behaviour and Accident Involvement among the Norwegian Public. Ergonomics. 2004;47(5):555-572. doi:10.1080/00140130410001658709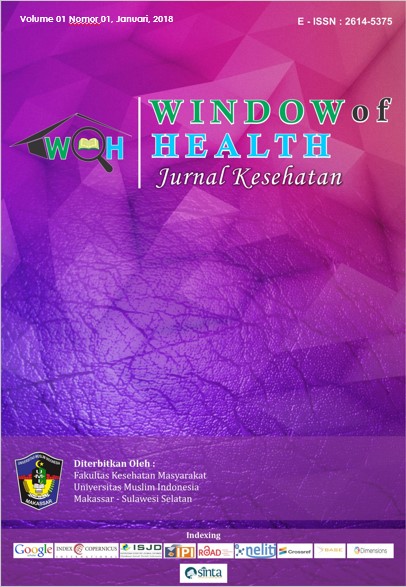 How to Cite
Fuady, ikhsan, Yusnita, T. Y., & Prasati, D. (2021). Faktor Faktor Yang Mempengaruhi Intensi Mahasiswa Dalam Penerapan Protokol Kesehatan Dalam Pencegahan Penularan Covid 19. Window of Health : Jurnal Kesehatan, 116-124. https://doi.org/https://doi.org/10.33368/woh.v0i2.406
This work is licensed under a Creative Commons Attribution-ShareAlike 4.0 International License.
All articles published Open Access are free for everyone to read and download. Under the CC-BY-SA license, authors retain ownership of the copyright for their article, but authors grant others permission to use the content of publications in WoH in whole or in part provided that the original work is properly cited.
Users (redistributors) of WoH are required to cite the original source, including the author's names, WoH as the initial source of publication, year of publication, and volume number