Relationship Knowledge Management with Nurse Performance In Inpatient Room Makasassar Unhas Hospital
Nurhidayah Halede

Stikes Nani Hasanuddin Makassar
Keywords:
Knowledge management, performance of nurses
Abstract
Knowledge management is an effective way to organize and manage the diverse knowledge possessed by an organization sourced from human resources consisting of tacit knowledge and explicit knowledge (Mardiana, 2013). This study aims to analyze the relationship of knowledge management with the performance of nurses inpatient rooms of Makassar Unhas Education Hospital. This study used cross sectional design, with 73 samples of nurses who were taken from 182 population with purposive sampling method. Data collection was done by spreading the questionnaire with the measurement scale of the liker and the observation sheet. Data were analyzed using SPSS with Correlation Test. The results obtained significance value 0.004 which indicates that the correlation between knowledge management with the performance of nurses in inpatient wards of Makassar Unhas Education Hospital is meaningful. Spearman correlation value of 0.336 indicates that the direction of positive correlation with weak correlation strength. The conclusion of this study is knowledge management consisting of knowledge acquisition, storage and maintenance of knowledge, development and utilization, distribution and knowledge sharing, development and utilization of knowledge is an intangible asset that is considered able to increase competitive advantage, dynamic, valuable and rare. Knowledge management should be a culture that should be applied in the Hospital Specifically in the field of nursing so that nurses are able to manage knowledge and knowledge sharing to support the achievement of good performance in providing nursing services.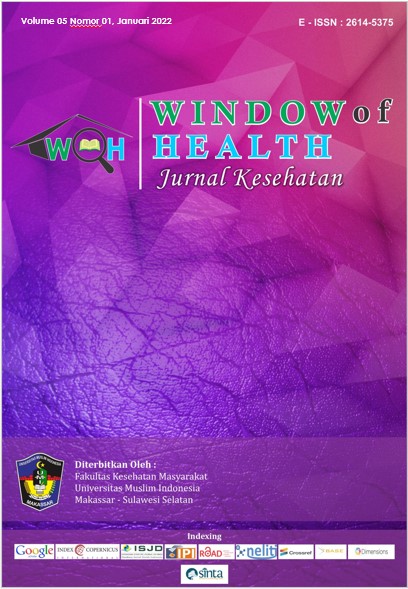 How to Cite
Halede, N. (2018). Relationship Knowledge Management with Nurse Performance In Inpatient Room Makasassar Unhas Hospital. Window of Health : Jurnal Kesehatan, 125-132. https://doi.org/https://doi.org/10.33368/woh.v0i0.39
This work is licensed under a Creative Commons Attribution-ShareAlike 4.0 International License.
All articles published Open Access are free for everyone to read and download. Under the CC-BY-SA license, authors retain ownership of the copyright for their article, but authors grant others permission to use the content of publications in WoH in whole or in part provided that the original work is properly cited.
Users (redistributors) of WoH are required to cite the original source, including the author's names, WoH as the initial source of publication, year of publication, and volume number