Group Activity Therapy on Elderly Socialization Skills
Fatma Jama

PROGRAM STUDI ILMU KEPERAWATAN.FKM UMI
Keywords:
Group Activity Therapy, Socialization, Elderly
Abstract
Group activity therapy is very important to practice socialization skills, especially in elderly people living in social institutions. Elderly who good socialization skills will be easier and able to interact socially to the community and the surrounding environment, while the elderly who experience social disorders, then the elderly will have difficulty in interaction to the community and the surrounding environment. The elderly will generally experience problems in their lives where the problem is one of them is the change of status and role in the group or society, and the lack of socialization between the elderly one with other elderly. Elderly who experience the problem will greatly affect the psychosocial changes, so it can lead to changes in behavior. The behavioral changes that are meant related to the inability of the elderly to socialize to other fellow elderly. The purpose of this study was to determine the effect of group therapy therapy on the socialization of the elderly in the Social House Tresna Werdha Gau Mabaji Gowa District. The type of research used is Quasi Experiment with One Group Pre-test and Post-test. Sampling method used is Accidental Sampling, where the sample of the research obtained is as many as 32 people. The results were obtained by using questionnaire on pre-post and direct observation on post-test. Data processing / statistical test using T-paired test. This study concluded that significantly giving group activity therapy by play, social skill, and consecration work can improve the socialization ability of elderly living in Tresna Werdha Gau Mabaji Social House of Gowa Regency.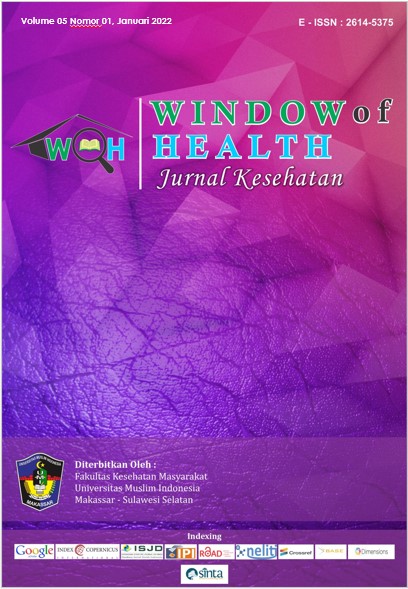 How to Cite
Jama, F. (2018). Group Activity Therapy on Elderly Socialization Skills. Window of Health : Jurnal Kesehatan, 97-101. https://doi.org/https://doi.org/10.33368/woh.v0i0.33
This work is licensed under a Creative Commons Attribution-ShareAlike 4.0 International License.
All articles published Open Access are free for everyone to read and download. Under the CC-BY-SA license, authors retain ownership of the copyright for their article, but authors grant others permission to use the content of publications in WoH in whole or in part provided that the original work is properly cited.
Users (redistributors) of WoH are required to cite the original source, including the author's names, WoH as the initial source of publication, year of publication, and volume number