Kajian Pengetahuan, Sikap Dan Persepsi Pedagang Tentang Kualitas Kesehatan Lingkungan Pasar
Ahmad Faizal Rangkuti

Universitas Ahmad Dahlan

Musfirah Musfirah

Prodi Kesehatan Masyarakat Fakultas Kesehatan Masyarakat Universitas Ahmad Dahlan

Febriyani Febriyani

Prodi Kesehatan Masyarakat Fakultas Kesehatan Masyarakat Universitas Ahmad Dahlan
Abstract
Indonesia is a developing country that has very complex environmental health problems, especially in big cities. Poor sanitation is believed to be the main cause in 280.000 deaths. Giwangan Market as a public place visited by many people has the potential as a place for disease transmission.This study aims to determine the knowledge, attitudes of traders in the Giwangan market about sanitation, because sanitation contributes to the realization of environmental health quality.This research is a quantitative research with cross sectional design. The sample in this study was the Yogyakarta Giwangan market traders, amounting to 102 respondents.The sample size is calculated using the Slovin formula. Random sampling with simple random sampling technique. Research instruments in the form of questionnaires and checklist sheets.Data analysis using univariate and bivariate analysis with chi square test. The results showed 78 people (76.5%) good sanitation traders,76 people (74.5%) good attitude, and 64 people (62.7%) had good perceptions about environmental health quality.The bivariate analysis showed that there was a relationship between knowledge (p = 0.002 ≤ 0.05) and attitudes about sanitation (p = 0.006 ≤ 0.05) and the perception of the quality of environmental health in the Giwangan Market. There is a relationship between traders' knowledge and attitudes about sanitation and the quality of environmental health in the Giwangan market. Suggestions for traders to increase awareness in maintaining the health of the market environment while for market managers there is a need for maintenance of facilities and increase availability of sanitation facilities in the market.
References
1. Sumantri. Kesehatan Lingkungan. Jakarta: Kencana Prenada Media Grup. 2015;86-93.
2. Adnani H. Ilmu Kesehatan Masyarkat. Yogyakarta: Nuha Medika. 2011;57-58,80-82.
3. World Health Organization. Fact Sheets; Sanitation. 2018; Available from: https://www.who.int/en/newsroom/fact-sheets/detail/sanitation.
4. Mukono H. Prinsip Dasar Kesehatan Lingkungan. Edisi Kedua. Surabaya: Airlangga University Press. 2006;107.
5. Santoso I. Inspeksi Sanitasi Tempat-Tempat Umum. Yogyakarta: Gosyen Publishing. 2015;10.
6. Kemenkes RI. Profil Kesehatan Indonesia Tahun 2017. Kementrian Kesehatan RI, Jakarta. 2017.
7. Dinkes DIY. Profil Kesehatan Daerah Istimewa Yogyakarta Tahun 2013. Dinas Kesehatan DIY, Yogyakarta. 2013.
8. Dinas Perindustrian dan Perdagangan Kota Yogyakarta. Profil Pasar Kelas II & III Kota Yogyakarta. Deperindag, Yogyakarta. 2018;4.
9. Sufriannor Muhammad, Hardiono, Juanda. Pengetahuan, Sikap dengan Tingkat Partisipasi Pedagang Dalam Pengelolaan Sampah Pasar. J Kesehat Lingkung. 2017;14(2):519–524.
10. Andriani DAOP, Posmaningsih DAA. Studi Pengetahuan, Sikap dan Tindakan Pedagang Tentang Pengelolaan Sampah di Pasar Umum Ubud Kecamatan Ubud Kabupaten Gianyar Tahun 2017. J Kesehat Lingkung. 2019;9(1):81–91.
11. Zulfitri. Tinjauan Perilaku Masyarakat Terhadap Pemeliharaan Jamban Keluarga di Gampong Lam Ilie Mesjid Kecamatan Indrapuri Kabupaten Aceh Besar Tahun 2012. J Kesmas. 2012;7(1):1–6.
12. Fauzy A. Baseline Pasar Sejahtera Pasar Karangwaru Yogyakarta. Ajie. 2017;2(2):83–89.
13. Syam DM. Hubungan Pengetahuan dan Sikap Masyarakat dengan pengelolaan Sampah di Desa Loli Tasiburi Kecamatan Banawa Kabupaten Donggala. J Kesehat Lingkung. 2016;2(1):21-26.
14. Karminiasih NLP, Marwati NM, Asmara IW. Hubungan Pengetahuan, Sikap dan Tindakan Pekerja Ternak Unggas dengan Keadaan Sanitasi Kandang dalam Upaya Pencegahan Penyakit Flu Burung. J Kesehat Lingkung Poltekkes Denpasar. 2014;4(1):50-56.
15. Mulyani R. Pengetahuan, Sikap dan Perilaku Higiene Pengolahan Makanan di Instalasi Gizi RSUDAM. J Keperawatan. 2014;10(1):6-12.
16. Sari NM, Tarigan DS. Hubungan Pengetahuan dan Sikap Petugas Cleaning Service dengan Penanganan Limbah Medis di Rumah Sakit Bhayangkara Medan Tahun 2018. J Kesehat Masy Gizi. 2019;1(2):48-54.
17. Afany N, Rasyid R, Yulistini. Hubungan Pengetahuan Mencuci Tangan dengan Kejadian Diare pada Siswa Kelas IV-V- SDN 11 Lubuk Buaya Padang. J Kesehat Andalas. 2017;6(2):364-368.
18. Khoiron, Rokhman D. Perilaku Masyarkat dalam Pengelolaan Sanitasi Lingkungan Pemukiman di Perkebunan Kopi Kabupaten Jember. Bul Penelit Sist Kesehat. 2015;18(2):187-195.
19. Artada K, Rusminingsih NK, Asmara IW. Tinjauan Keadaan Sanitasi Pasar Kampung Tinggi Kelurahan Kampung Baru Kecamatan Buleleng Kabupaten Buleleng Tahun 2013. J Kesehat Lingkung. 2014;4(1):75-78.
20. Risnawaty G. Faktor Determinan Perilaku Cuci Tangan Pakai Sabun (CTPS) pada Masyarakat di Tanah Kalikedinding. J Promkes. 2016;4(1):70-81.
21. Nazaruddin. Analisis Perilaku Masyarakat dalam Upaya Menciptakan Kebersihan Lingkungan di Kota Pekanbaru (Studi Kasus Kelurahan Simpang Baru). J Online Mhs FISIP. 2014;1(2):1-15.
22. Raharjo AS. Hubungan antara Pengetahuan, Sikap, dan Ketersediaan Fasilitas di Sekolah dalam Penerapan PHBS Membuang Sampah Pada Tempatnya. Unnes J Public Heal. 2014;3(1):1-10.
23. Chusna AS. Faktor yang Mempengaruhi Kualitas Sarana Sanitasi di Universitas Negeri Semarang Tahun 2012. J Kesmas. 2013;2(1):1-7.
24. Pakpahan DR. Pengaruh Pengetahuan dan Sikap Terhadap Perilaku Masyarakat pada Bank Syariah di Wilayah Kelurahan Sei Sikambing. At-Tawassuth. 2017;3(3):345-367.
25. Sholikhah S. Hubungan Pelkasanaan Program ODF (Open Defecation Free) dengan Perubahan Perilaku Masyarakat dalam Buang Air Besar di Luar Jamban di Desa Kemiri Kecamatan Malo Kabupaten Bojonegoro. J Kesehat Lingkung. 2012;2(5):84-90.
26. Lestari T. Kumpulan Teori Untuk Kajian Pustaka Penelitian Kesehatan. Nuha Medika, Yogyakarta. 2015:1-13.
27. Nurjannah E. Gambaran Pengetahuan Masyarakat Tentang Rumah Sehat di Dukuh Sepat Kelurahan Sepat Kecamatan Masaran Kabupaten Sragen Tahun 2011. J Komun Kesehat. 2011;3(2):12-18.
28. Iwu AC, Duru CB, Uwakwe KA, Diwe KC, Merenu IA, Emerole CA, et al. Assessment of Waste Management Practices Among Traders in Major Markets in Owerri, Imo State, Nigeria. Int J Heal Sci Res. 2016;6(7):7-17.
29. Duru CB, Iwu AC, Diwe KC, Uwakwe KA, Merenu IA, Madubueze UC, et al. Environmental Sanitation Practices: A Case Study of Solid Waste Management in Semi-Urban Communities in Orlu, Imo State Nigeria. Occup Dis Environ Med. 2017;5(4):88-105.
30. Aminrad Z, Zakariya SZBS, Hadi AS, Sakari M. Relationship Between Awareness Knowlodge, and Attitude Towards Environmental Education Among Secondary School Students in Malaysia. World Appl Sci J. 2013;22(9):1326-1333.
31. Zheng QJ, Xu AX, Kong DY, Deng HP, Lin QQ. Coreelation Between The Environmental Knowledge, Environmental Attitude, and Behavioral Intention of Tourists For Ecotourism in China. Ecol Environ Res. 2017;16(1):51-62.
32. Rahmayani. Hubungan Pengetahuan, Sikap dan Tindakan Hygiene Sanitasi Pedagang Makanan Jajanan di Pinggir Jalan. Aceh Nutr J. 2018;3(2):172-178.
33. Hasanah IN, Wahyuni S. Hubungan Pengetahuan dan Sikap dengan Perilaku Pencegahan Infeksi Leptospirosis Pada Ibu Hamil. J Kebidanan. 2017;12(6):55-62.
34. Anggraini R, Iswandi., Deded C. Partisipasi Pedagang dalam Menjaga Kebersihan Lingkungan Pasar Aur Kuning Kota Bukittinggi. J Buana. 2018;2(4):440-448.
35. Gafur A, Syam N, Hamzah W. Implementation of Theory Planning Behavior on Intention to Disposal Trash Visitor Car Free Day Losari Beach Makassar City. Window of Health : Jurnal Kesehatan [Internet]. 25Jan.2019 [cited 24Jul.2020];:77-. Available from: http://jurnal.fkmumi.ac.id/index.php/woh/article/view/woh2109
36. Simarmata B, Daule AH, Raihana. Hubungan Tingkat Pengetahuan Lingkungan Hidup dengan Sikap Peduli Lingkungan Siswa. J Pelita Pendidikan. 2018;6(4):204-210.
37. Qasim M. The Relationship Between Knowledge and Economic Status on The Use of Personal Protective Equipment in Garbage Scavengers in TPA Tamangapa Makassar City. Window of Health : Jurnal Kesehatan [Internet]. 25Jul.2018 [cited 24Jul.2020];1(3):269-75. Available from: http://jurnal.fkmumi.ac.id/index.php/woh/article/view/woh1315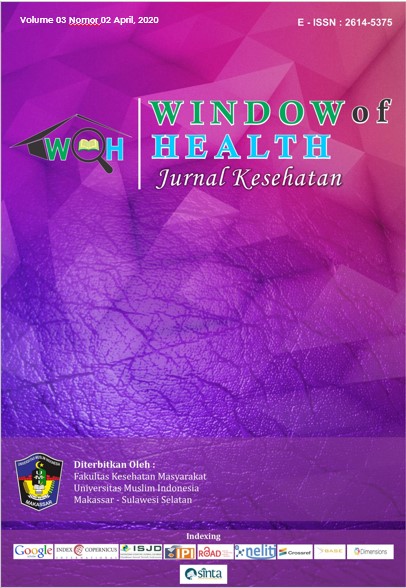 How to Cite
Rangkuti, A., Musfirah, M., & Febriyani, F. (2020). Kajian Pengetahuan, Sikap Dan Persepsi Pedagang Tentang Kualitas Kesehatan Lingkungan Pasar. Window of Health : Jurnal Kesehatan, 227-239. https://doi.org/https://doi.org/10.33368/woh.v0i0.326
This work is licensed under a Creative Commons Attribution-ShareAlike 4.0 International License.
All articles published Open Access are free for everyone to read and download. Under the CC-BY-SA license, authors retain ownership of the copyright for their article, but authors grant others permission to use the content of publications in WoH in whole or in part provided that the original work is properly cited.
Users (redistributors) of WoH are required to cite the original source, including the author's names, WoH as the initial source of publication, year of publication, and volume number