Faktor Internal Kejadian Ketuban Pecah Dini di Kabupaten Kulonprogo
Liberty Barokah

Kebidanan

Silvia Ari Agustina

Program Studi Kebidanan, Fakultas Kesehatan, Universitas Jenderal Achmad Yani Yogyakarta
Abstract
Premature rupture of membranes (PROM) is a rupture of the membranes before labor. PROM is still a Disease of Theory because it is not yet known the exact cause, but there are several internal or external conditions thought to be related to premature rupture of membranes. Internal factors include maternal age, parity, polyhydramnios, cervical incompetence and fetal presentation. Complications due to PROM are infections in labor and childbirth, prolonged labor, increased of caesarean section deliveries. The purpose of this study was to determine the internal factors of the incidence Premature rupture of membranes (PROM) in Kulonprogo, Yogyakarta. This study uses analytic surveys with a retrospective approach. Univariate data analysis uses percentage forms and multivariate uses binomial logistic regression analysis. The results showed that internal factors such as parity, gestational age, disporpotion Chepalo Pelvic and c diseases in pregnant had p values (0.031, 0.035, 0,008 dan 0.000) < 0.005. the variable has a significant influence on the incidence of PROM. While the variable location of the fetus and uterine enlargement does not have a partial effect on PROM with a p value (0.816 and 0.857) > 0.005 here is a relationship between internal factors (parity, gestational age, PROM and diseases in pregnant) with the incidence of PROM
References
1. Manuaba, I. B. G. Ilmu Kebidanan, Penyakit Kandungan dan Keluarga Berencana Untuk Pendidikan Bidan. (Penerbit Buku Kedokteran EGC, 2010).
2. Manuaba, I. B. G. Kapita Selekta Penatalaksanaan Rutin Obstetri Ginekologi dan KB. (Penerbit Buku Kedokteran EGC, 2001).
3. Legawati, L. & Riyanti, R. Determinan Kejadian Ketuban Pecah Dini (KPD) di Ruang Cempaka RSUD Dr Doris Sylvanus Palangkaraya. J. Surya Med. (2018) doi:10.33084/jsm.v3i2.106.
4. Prawirohardjo, S. Ilmu Kebidanan. (Bina Pustaka Sarwono Prawirohardjo, 2016). 5. Fitrian Ikhtirinawati Fajrin. Kepatuhan Konsumsi Zat Besi (Fe) Terhdap Kejadian Anemia Pada Ibu Hamil 2020. Window Of Health Jurnal Kesehatan Vol 3 No 4: . Available From Http://Jurnal.Fkmumi.Ac.Id/Index.Php/Woh/Article/View/Woh340
6. Marmi, Suryaningsih, R. & Fatmawati, E. Asuhan Kebidanan Patologi. (Pustaka Pelajar, 2011).
7. Sudarto & Tunut, T. Resiko Terjadinya Ketuban Pecah Dini Pada Ibu Hamil Dengan Infeksi Menular Seksual. J. Vokasi Kesehat. 2, 126–131 (2016).
8. Tjahjani, E. Gambaran Umur, Paritas, Pendidikan Dan Pekerjaan Ibu Bersalin Terhadap Kejadian KPD. Griya Husada 3, (2014).
9. Wiknjosastro, H. Ilmu Bedah Kebidanan. (Yayasan Bina Pustaka Sarwono Prawirohardjo, 2011). 10. Muthia Sari Mardha & Endriyani Syafitri Hubungan Umur Dan Paritas Dengan Anemia Pada Ibu Hamil D I Rumah Bersalin Hj. Dermawati Nasution Tembun G Window Of Health : JurnalKesehatan,Vol. 2 No. 4 (Oktober,2019): 307-314 . Available From: Http://Jurnal.Fkmumi.Ac.Id/Index.Php/Woh/Article/View/Woh2401
11. Puspitasari, R. N. Korelasi Karakteristik Dengan Penyebab Ketuban Pecah Dini Pada Ibu Bersalin Di RSU Denisa Gresik. 3, 24–32 (2019).
12. Oxorn, H. & Forte, R. Ilmu Kebidanan Patologi dan Fisiologi Persalinan. (Yayasan Essentia Medica).
13. Arifa, H. N. Perbedaan Kejadian Ketuban Dini Pada DKP dan Non DKP Ibu Hamil Aterm di RSUD Dr. Moewardi Surakarta. (Universita Sebelas Maret, 2009).
14. Arsiana, D., Mariati & Yuniarti. Hubungan DKP Dengan Kejadian Ketuban Pecah Dini Di Rsud Dr. M. Yunus Bengkulu. J. Media Kesehat. 5, 185–192 (2012).
15. Huda, N. Faktor-faktor yang mempengaruhi ketuban pecah dini di rs pku muhammadiyah surakarta naskah publikasi. J. Kesehat. 2, 21 (2013).
16. Abrar, N. M., Handono, B. & Triyanti, G. I. Karakteristik Luaran Kehamilan Dengan Ketuban J. Sist. Kesehat. 2, 2015–2018 (2017).
17. Xia, H., Li, X., Li, X., Liang, H. & Xu, H. The clinical management and outcome of term premature rupture of membrane in East China: Results from a retrospective multicenter study. Int. J. Clin. Exp. Med. 8, 6212‐6217 (2015).
18. Salat, S. Y. S. Hubungan Paritas Dan Kelainan Letak Dengan Kejadian Ketuban Pecah Dini Pada Ibu Bersalin Di Rsi Garam Kalianget. J. Heal. Sci. (Jurnal Ilmu Kesehatan) 2, 41–46 (2018).
19. Hastuti, H., Sudayasa, P. & Saimin, J. Analisis Faktor Risiko Ketuban Pecah Dini di Rumah Sakit Umum Bahteramas. J. Kesehat. 3, 268–272 (2016).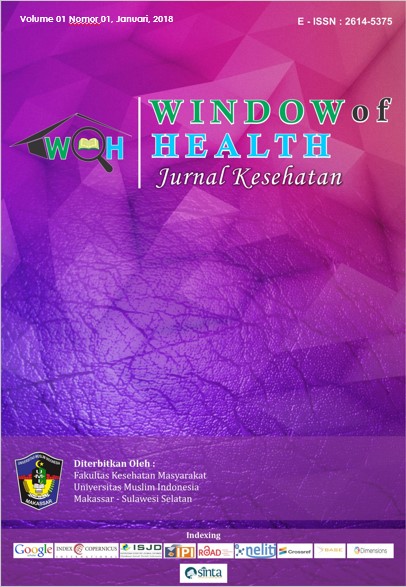 How to Cite
Barokah, L., & Agustina, S. (2021). Faktor Internal Kejadian Ketuban Pecah Dini di Kabupaten Kulonprogo. Window of Health : Jurnal Kesehatan, 108-115. https://doi.org/https://doi.org/10.33368/woh.v0iNo%202.314
This work is licensed under a Creative Commons Attribution-ShareAlike 4.0 International License.
All articles published Open Access are free for everyone to read and download. Under the CC-BY-SA license, authors retain ownership of the copyright for their article, but authors grant others permission to use the content of publications in WoH in whole or in part provided that the original work is properly cited.
Users (redistributors) of WoH are required to cite the original source, including the author's names, WoH as the initial source of publication, year of publication, and volume number