Pemberian Makanan Pendamping Air Susu Ibu Secara Dini Pada Bayi Usia 0-6 Bulan Berdasarkan Pengetahuan Keluarga
Husnul Muthoharoh

Universitas Islam Lamongan
Abstract
Complementary food for breast milk is food that is given to babies from the age of 6-24 months to meet energy and other nutritional needs that cannot be fulfilled by breast milk. However, many parents provide complementary food for breast milk to their babies before the age of 6 months. This is due to lack of knowledge of family or parents. This study aims to determine the relationship between family knowledge about complementary foods with breastfeeding early breastfeeding complementary foods at the Lamongan Health Center. This research uses analytic design type of cross sectional design. The population is the whole family of mothers who have babies aged 0-6 months as many as 30 respondents. Sample of 28 people using simple random sampling technique. The results showed that the majority of respondents who had insufficient knowledge of their babies received complementary breastfeeding early, namely 10 (71.4%) and a small proportion of respondents who had good knowledge of their babies did not get complementary breastfeeding early, namely 1 (16.7%) respondent. The results of data analysis obtained p = 0.044 (p <0.05). The conclusion of the research is that there is a relationship between family knowledge about complementary foods with breast milk and early supplementary feeding. It is recommended that the family should always be involved in providing care to nursing mothers so that mothers understand the importance of exclusive breastfeeding and the adverse effects caused by providing supplementary breastfeeding food that is too early.
References
1. Setyarini A, Mexitalia M, Margawati A. Pengaruh Pemberian Asi Eksklusif dan Non Eksklusif terhadap Mental Emosional Anak Usia 3-4 Tahun. Medica Hosp J Clin Med. 2017;3(1):16-21. doi:10.36408/mhjcm.v3i1.207
2. Muthoharoh H. Hubungan Pelaksanaan IMD (Inisiasi Menyusu Dini) Dan Pemberian ASI Eksklusif Pada Bayi Usia 7-12 Bulan di Desa Payaman. In: Seminar Nasional Unisla. 2018;1(1):231-234.
3. Muthoharoh H, Ningsih ES. Hubungan Dukungan Keluarga Dengan Keberhasilan Pemberian ASI Eksklusif pada Bayi Usia 7-12 Bulan di Desa Payaman. J Qual Women's Heal. 2019;2(1):1-6. doi:10.30994/jqwh.v2i1.19
4. Kumari A, Kumar S. Study of Factors Affecting Complementary Feeding of 6 to 24 Months Children Attending OPD of PHC Maner. Int J Sci Res. 2020;7(1):69-70.
5. Syaiful Y, Fatmawati L, Aminah S. Increased Knowledge and Attitude of Mothers about Complementary Food for Mother's Milk in Hendrosari Village, Menganti Gresik. Panritaabdi. 2020;4(2):195-204.
6. Triana NY, Haniyah S. Relationship of Exclusive Breastfeeding, Complementary Feeding and Nutritional Intake with Stunting in Children in Karanglewas Health Center. 2020;20(1):74-78. doi:10.2991/ahsr.k.200204.017
7. Cunha AJ, Leite ÁJ AI. The Pediatrician's Role In The First Thousand Days Of The Child: The Pursuit Of Healthy Nutrition And Development. J Pediatr (Rio J). 2015;91(6):44-51. doi:10.1016/j.jped.2015.07.002
8. Andriyani R. Hubungan Pengetahuan Ibu tentang MP-ASI Terhadap Waktu Pemberian MP-ASI pada Bayi. J Penelit Kesehat Suara Forikes. 2018;9(1):36-39. doi:10.20961/ge.v4i1.19180
9. Nadiatul Izzah D. Hubungan Pengetahuan, Sikap, dan Dukungan Keluarga dengan Praktik Pemberian ASI dan MP-ASI Ibu Balita Usia 6-23 Bulan di Desa Bonto Marannu Kecamatan Moncongloe Kabupaten Maros Tahun 2017. Published online 2017.
10. Ulak N, Kc D, Tiwari K. Complementary Feeding Practices and it ' s Associated Factors Among Mothers in Selected Urban Area of Nepal. Asploro J Biomed Clin Reports. 2020;3(1):6-14. doi:10.36502/2020/ASJBCCR.6176
11. Septikasari M. Status Gizi Anak Dan Faktor Yang Mempengaruhi. 1st ed. UNY Press; 2018.
12. Ahmed KY, Page A, Arora A, Ogbo FA. Trends and factors associated with complementary feeding practices in Ethiopia from 2005 to 2016. Matern Child Nutr. 2020;16(2):1-17. doi:10.1111/mcn.12926
13. Jabri L, Rosenthal DM, Benton L, Lakhanpaul M. Complementary Feeding Practices And Nutrient Intakes Of Children Aged 6-24 Months From Bangladeshi Background Living In Tower Hamlets, East London: A Feasibility Study. J Heal Popul Nutr. 2020;39(1):1-15. doi:10.1186/s41043-020-0213-1
14. Nababan L, Widyaningsih S. Pemberian MPASI dini pada bayi ditinjau dari pendidikan dan pengetahuan ibu. J Keperawatan dan Kebidanan Aisyiyah. 2018;14(1):32-39. doi:10.31101/jkk.547
15. Notoatmodjo S. Ilmu Perilaku Kesehatan. Jakarta: Rineka Cipta; 2014.
16. Maulidanita R. Faktor Yang Berhubungan Dengan Pemberian Makanan Pendamping Air Susu Ibu Pada Bayi 0-6 Bulan Di BPM Romauli Silalahi. Wind Heal J Kesehat. 2020;3(2):123-131.
17. Prasetio TS, Permana OR, Sutisna A. Hubungan Pengetahuan, Sikap, dan Perilaku Ibu Tentang ASI dengan Keberhasilan ASI Eksklusif: Puskesmas Pancalang Kabupaten Kuningan. Tunas Med J Kedokt dan Kesehat. 2020;6(1):1-6.
18. Virginia A, Maryanto S, Anugrah RM. the Correlation Between Complementary Feeding and First Complementary Feeding Time With Stunting in Children of 6-24 Months in Leyangan Village, East Ungaran, Semarang Regency. Jgk. 2020;12(27):89-98.
19. Fitriani Y, Firdawati F, Lubis G. Hubungan Pemberian Jenis Makanan Pendamping ASI dengan Perkembangan Bayi Umur 9-12 Bulan di Wilayah Kerja Puskesmas Lubuk Begalung Padang. J Kesehat Andalas. 2020;8(4):238-246. doi:10.25077/jka.v8i4.1146
20. Yulianti Y, Abdullah T, Yusriani Y. Case To Action Relates To Providing Exclusive ASI In The Kassi-Kassi Health Center Work Area. Window of Health: Jurnal Kesehatan. 2019;2(1):44-53.
21. Mariani NN, Hendi H, Nita GS. Faktor-Faktor Yang Berhubungan dengan Pemberian MP-ASI Dini di Wilayah Kerja UPTD Puskesmas Sindanglaut Kecamatan Lemahabang Kabupaten Cirebon. J Kesehat. 2016;7(3):420-426.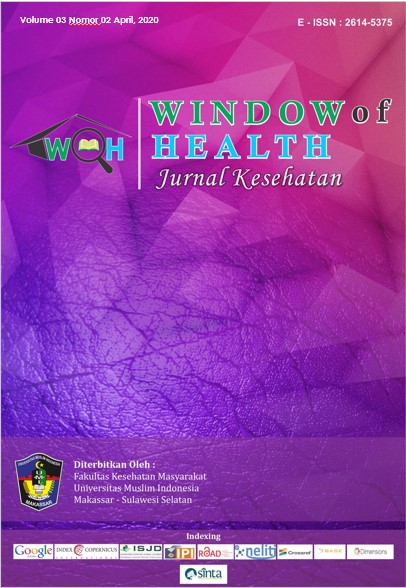 How to Cite
Muthoharoh, H. (2020). Pemberian Makanan Pendamping Air Susu Ibu Secara Dini Pada Bayi Usia 0-6 Bulan Berdasarkan Pengetahuan Keluarga. Window of Health : Jurnal Kesehatan, 259-266. https://doi.org/https://doi.org/10.33368/woh.v0i0.371
This work is licensed under a Creative Commons Attribution-ShareAlike 4.0 International License.
All articles published Open Access are free for everyone to read and download. Under the CC-BY-SA license, authors retain ownership of the copyright for their article, but authors grant others permission to use the content of publications in WoH in whole or in part provided that the original work is properly cited.
Users (redistributors) of WoH are required to cite the original source, including the author's names, WoH as the initial source of publication, year of publication, and volume number