Monitoring Mutu Pelayanan Rawat Inap Berbasis Komputerisasi
Riska Rosita

Universitas Duta Bangsa Surakarta

Agustina Srirahayu

Sistem Informasi Fakultas Ilmu Komputer Universitas Duta Bangsa Surakarta
Abstract
Currently, almost all health services are required to implement the use of computerization as a data processing medium to produce complete, accurate, and timely information. Inpatient reporting data can be seen from the values of BOR, ALOS, TOI, BTO, GDR, and NDR indicators. The medical record unit as a patient data holder and report maker still perform calculations manually so the information presented is often incorrect and incomplete. The purpose of this research is to design an information system in the form of SAMURAI, which is the Determination of Inpatient Quality Indicator Information System. The results showed that SAMURAI could help to report officers and heads of medical records units to make it easier to compile and present reports. The conclusion of this research is in the form of an information system that presents reports on inpatient indicators in the form of line charts and can be seen in the period of each month, every quarter, or every year.
References
1. Sudra, RI. Statistik Rumah Sakit dari Sensus Pasien dan Grafik Barber Johnson Hingga Statistic Kematian dan Otopsi. Yogyakarta: Graha Ilmu. 2010.
2. Rustiyanto, E. Statistik Rumah Sakit Untuk Pengambilan Keputusan. Cetakan Pertama. Yogyakarta: Graha Ilmu. 2010.
3. Rosita dan Tanastasya. Penetapan Mutu Rumah Sakit Berdasarkan Indikator Rawat Inap. Jurnal Kesehatan Kusuma Husada. 2019; 10 (1). 166-178.
4. Lestari, N. dan Wulandari, RD. Penyebab Bed Turn Over (BTO) Di Instalasi Rawat Inap RSUD Dr. M. Soewandhie Determinant Factors Of Bed Turn Over In Hospitalization Rsud Dr. M. Soewandhie. Jurnal Administrasi Kesehatan Indonesia. 2014; 2 (3) : 187-197.
5. Setiawan, D. Analisis Implementasi Pemanfaatan Sistem Informasi Manajemen Rumah Sakit (Simrs) Pada Rsud Kardinah Tegal. Indonesian Journal On Computer And Technology. 2016; 1(2): 54-61.
6. Turban, E. Decision Support Systems and Intellegent Systems (Bahasa Ind.). Yogyakarta: Andi Offset. 2005.
7. Sutabri, T. Konsep Sistem Informasi. Yogyakarta: Andi Offset. 2012.
8. Kendall, EK. Analisis Dan Perancangan Sistem (Edisi 5.). Jakarta: PT. Indeks. 2010.
9. Wahyuni, V dan Maita, I. Evaluasi Sistem Informasi Manajemen Rumah Sakit (Simrs) Menggunakan Metode Unified Theory Of Acceptance And Use Of Technology (UTAUT). Jurnal Ilmiah Rekayasa dan Manajemen Sistem Informasi. 2015; 1 (1): 55-61.
10. Susilowati, S. dan Rias, BK. Pembuatan Sistem Informasi Klinik Rawat Inap Prima Husada Widoro Pacitan Berbasis Website. Journal Speed. 2011; 3(1): 29-34.
11. Sidiq, M. Penerapan Sistem Informasi Manajemen di Rumah Sakit Putri Hijau Medan. Jurnal Ilmiah Kesehatan. 2018; 17 (2): 30-35.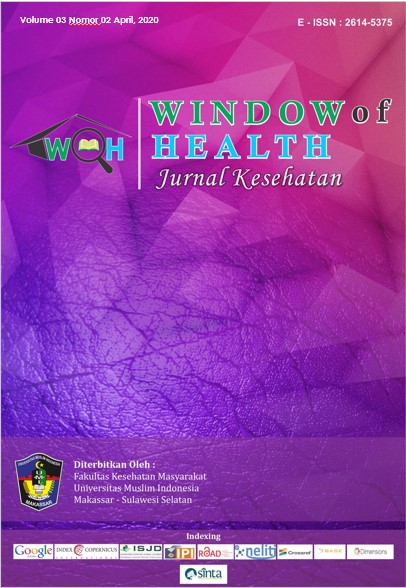 How to Cite
Rosita, R., & Srirahayu, A. (2020). Monitoring Mutu Pelayanan Rawat Inap Berbasis Komputerisasi. Window of Health : Jurnal Kesehatan, 240-250. https://doi.org/https://doi.org/10.33368/woh.v0i0.341
This work is licensed under a Creative Commons Attribution-ShareAlike 4.0 International License.
All articles published Open Access are free for everyone to read and download. Under the CC-BY-SA license, authors retain ownership of the copyright for their article, but authors grant others permission to use the content of publications in WoH in whole or in part provided that the original work is properly cited.
Users (redistributors) of WoH are required to cite the original source, including the author's names, WoH as the initial source of publication, year of publication, and volume number