Faktor Yang Memengaruhi Pernikahan Usia Muda Pada Pasangan Suami Istri di Desa Tanjung Mompang Kec. Panyabungan Utara Kab. Mandailing Natal
Desy Hermarani Lubis

Program Pasca Sarjana Institut Kesehatan Helvetia Medan

Razia Begum Suroyo

Dosen Magister Ilmu Kesehatan Masyarakat Institut Kesehatan Helvetia

Jitasari Tarigan Sibero

Dosen Magister Ilmu Kesehatan Masyarakat Institut Kesehatan Helvetia
Abstract
Young marriage is marriages performed by men under the age of 19 years and women under the age of 16 years. According to WHO in 2014 showed amount 16 million women gave birth aged 15-19 years or 11% of all births in the World this study aims to analyze the factors that influence young marriage in a married couple at Tanjung Mompang Village, North Panyabungan District of Mandailing Natal Regency in 2019. This research uses a mix method research. The populations were husband and wife couples with fertile age status who engaged in young marriage amount 79 couples. The quantitative approach sample was 79 married couples. The qualitative approach was 3 married couples, 1 village head, 1 village midwife, 1 traditional leader. Quantitative analysis was done by univariate, bivariate, multivariate analysis. Qualitative analysis performed by data reduction, data presentation, and drawing conclusions. The results showed the majority of knowledge variables lack p-value .038, majority education low value p-value .013, parenting majority lack p-value .011, majority culture supports p-value .025. The conclusion shows that there is the influence of knowledge, education, parenting, and culture. The most dominant variable affecting young marriage is culture. It is expected that traditional leaders can provide a way of life for adolescents not to engage in young marriage and suggestion for adolescents to study to college to be useful adolescents, thus the teenager knows the negative effects of young marriage that are vulnerable to reproductive health problems.
References
1. Bkkbn. Survei Demografi dan Kesehatan Indonesia [Internet]. 2012. Available from: https://www.google.com/bkkbn.survei.demografi+dan+kesehatan+Indonesia+tahun+2012
2. Manuaba. Memahami Kesehatan Reproduksi Wanita. 2nd ed. Jakarta: EGC; 2009.
3. WHO. data pernikahan dini [Internet]. 2014. Available from: https://www.google.com/who.go.id/data/print/menikah.muda
4. Margareth F. Analisis Kasus dari Pernikahan Dini yang Berkaitan dengan kesehatan Reproduksi bagi Pasangan Suami-Isteri di Desa Limau Manis Kecamaan Tanjung Morawa Kabupaten Deli Serdang tahun 2016. 2016;
5. Riskesdas. Riset Kesehatan Dasar. Kementrian Kesehatan RI. Jakarta; 2013.
6. 35 persen remaja menikah dini di Sumut. Antony. 2016;
7. Creswell JW. Research Design Pendekatan Metode Kualitatif, Kuantitatif dan Campuran. Yogyakarta: Pustaka Pelajar; 2017.
8. Sugiyono. Metode Penelitian Kombinasi (Mix Methods). Bandung: Alfabeta; 2018.
9. Desiyanti IW. Faktor-Faktor yang Berhubungan Terhadap Pernikahan Dini Pada Pasangan Usia Subur di Kecamatan Mapanget Kota Manado Factors Associated With Early Mariage In Couples Of Childbearing Age At Kecamatan Mapanget Manado City. :270–80.
10. Rahmat J. Psikologi Agama. Jakarta: Raja Grafindo Persada; 2003. 88 p.
11. Koentjaraningrat. Kebudayaan, Mentalitas, dan Pembangunan. Jakarta: Gramedia Pustaka Utama;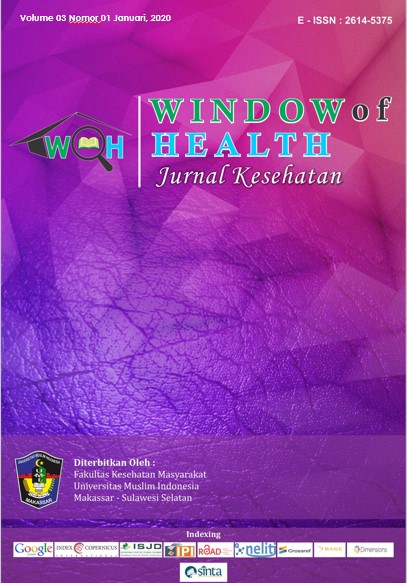 How to Cite
Lubis, D. H., Suroyo, R., & Sibero, J. (2020). Faktor Yang Memengaruhi Pernikahan Usia Muda Pada Pasangan Suami Istri di Desa Tanjung Mompang Kec. Panyabungan Utara Kab. Mandailing Natal. Window of Health : Jurnal Kesehatan, 140-150. https://doi.org/https://doi.org/10.33368/woh.v0i0.327
This work is licensed under a Creative Commons Attribution-ShareAlike 4.0 International License.
All articles published Open Access are free for everyone to read and download. Under the CC-BY-SA license, authors retain ownership of the copyright for their article, but authors grant others permission to use the content of publications in WoH in whole or in part provided that the original work is properly cited.
Users (redistributors) of WoH are required to cite the original source, including the author's names, WoH as the initial source of publication, year of publication, and volume number