Faktor Determinan Kesiapsiagaan Perawat Terhadap Bencana Gunung Meletus (Gamalama) di Puskesmas Wilayah Kerja Dinas Kesehatan Kota Ternate
Abd Hakim Husen

Fakultas Kedokteran Universitas Khairun

Cahyono Kaelan

Ilmu Biomedik Fakultas Kedokteran Universitas Hasanuddin

Armyn Nurdin

Ilmu Biomedik Fakultas Kedokteran Universitas Hasanuddin

Anto J. Hadi

Ilmu Kesehatan Masyarakat Fakultas Kesehatan Universitas Aufa Royhan
Abstract
Puskesmas is part of the government and is obliged to perform its functions in disaster preparedness. This study aimed to determine the description and the relationship of determinant factors of nurse preparedness to the eruption of Mountain Gamalama at the working area of the Health Center in ​​Ternate City Health Office. The research used the combined research method (Mixed Method), which was the combination between the quantitative method and the qualitative method. The research samples included all the nurses in the Health Center of the working area of the Health office of Ternate City comprising 41 people. The data analysis was conducted using the Chi-square test for quantitative research. The Knowledge variable was p=0,05, and the skill variable was p= 0,171. The related to the preparedness. Meanwhile, the qualitative research was in the form narration of the interviews with the respondents who had low skills because of the little training and stimulation about the calamity.
References
1. Perdana N. Menurunkan Resiko Bencana. Makassar: Masaggena Press; 2016.
2. didit damayanti, pria wahyu RG M. Hubungan Pengetahuan Tentang Manajemen Bencana Dengan Prevention Masyarakat Dalam Menghadapi Bencana Gunung Meletus Pada Kepala Keluarga Di Rt 06/Rw 01 Dusun Puncu Desa Puncu Kecamatan Puncu-Kedir. Hub Pengetah Tentang Manaj Bencana Dengan Prev Masy Dalam Menghadapi Bencana Gunung Meletus Pada Kepala Kel Di Rt 06/Rw 01 Dusun Puncu Desa Puncu Kec Puncu-Kediri. 2017;5(2):1–8.
3. RI DK. Sistem Penanggulangan Gawat Darurat Terpadu (SPGDT). Jakarta; 2004.
4. Oktari RS, Kurniawan H. Framework Ketahanan Puskesmas Dalam Menghadapi Bencana. J Kedokt Syiah Kuala. 2016;16(1):44–52.
5. LIPI. Ekologi Ternate. Jakarta: LIPI Pres; 2011.
6. Dharma KK. Metode Penelitian Keperawatan. Jakarta: CV. Trans Info Media; 2015.
7. Radhi SF, Mudatsir I, Bintang P, Jayawijaya K. PENYAKIT MALARIA DI KABUPATEN ACEH BESAR Pendahuluan masalah kesehatan masyarakat Indonesia . kesehatan mempunyai peran yang besar bahwa variabel yang mempunyai hubungan dan berkaitan dengan kesiapsiagaan adalah sikap . Sikap seseorang akan sikap perawat . 2015;
8. Radhi SF, Mudatsir I, Bintang P, Jayawijaya K. Hubungan Tingkat Pengetahuan Dan Sikap Perawat Dengan Kesiapsiagaan Menghadapi Bencana Wabah Penyakit Malaria Di Kabupaten Aceh Besar. J Kedokt Syiah Kuala. 2015;15(3):142–8.
9. Ajmain. Analisis Kesiapsiagaan Perawat dalam Memberikan Pelayanan Kegawatdaruratan Sistem Pernapasan Akibat Bencana Alam di Wilayah Kerja Dinas Kesehatan Kabupaten Aceh Tamiang. 2013;4(75).
10. Nursana IM, Ghaznawie M, Budu. Pengaruh Simulasi Kedaruratan Medik Terhadap Kompetensi Petugas Penanggulangan Bencana Daerah Provinsi Sulawesi Barat. J Keperawatan Soedirman. 2013;8(3):155–62.
11. Fahrepi R, Rate S, Hadi AJ. Hubungan Kualitas Pelayanan Home Care Dengan Tingkat Kepuasan Keluarga Pasien Di Wilayah Kerja Puskesmas Batua Kota Makassar. Promot J Kesehat Masy. 2019;9(1):122–8.
12. International Council of Nurses. ICN Framework of Disaster Nursing Competencies. 2009. 49 p.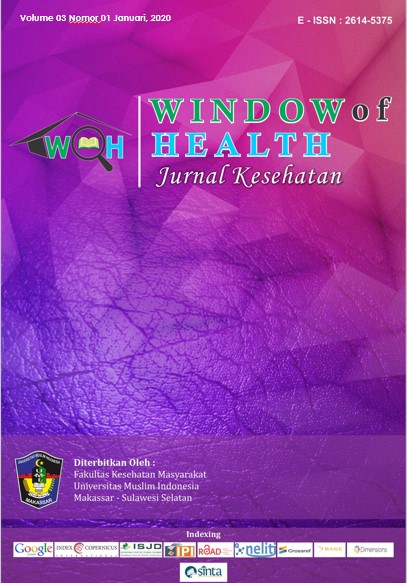 How to Cite
Hakim Husen, A., Kaelan, C., Nurdin, A., & J. Hadi, A. (2020). Faktor Determinan Kesiapsiagaan Perawat Terhadap Bencana Gunung Meletus (Gamalama) di Puskesmas Wilayah Kerja Dinas Kesehatan Kota Ternate. Window of Health : Jurnal Kesehatan, 159-167. https://doi.org/https://doi.org/10.33368/woh.v0i0.313
This work is licensed under a Creative Commons Attribution-ShareAlike 4.0 International License.
All articles published Open Access are free for everyone to read and download. Under the CC-BY-SA license, authors retain ownership of the copyright for their article, but authors grant others permission to use the content of publications in WoH in whole or in part provided that the original work is properly cited.
Users (redistributors) of WoH are required to cite the original source, including the author's names, WoH as the initial source of publication, year of publication, and volume number