Gangguan Kepribadian Akibat Kecanduan Bermain Game Pada Gamers
Edward Pandu Wiriansya

UMI Makassar

Andi Muhammad Reza Cesaria Noor

Fakultas Kedokteran Universitas Muslim Indonesia

Titin Suhartina Rahman

Fakultas Kedokteran Universitas Muslim Indonesia

Dian Amelia Abdi

Bidang Pelayanan Medik Rumah Sakit Ibnu Sina Makassar

Andi Puspa Ratu

Rumah Sakit Batara Siang Pangkep
Abstract
Electronic games or often referred to as online games, have experienced very rapid development and progress. This can be seen in various small cities in all corners of Indonesia, where many game centers have emerged. Even lately, the type and theme of the game that develops leads to the theme of violence that triggers aggressive behavior in adolescents. In addition, as the number of game addicts increases, the number of criminal acts triggered by the game increases. The purpose of this study was to determine the relationship of addiction to playing games with personality disorders in game players. This research uses observational analytic method with cross sectional design. The research subjects were game players in the Makassar City Game Center which were taken in total sampling. Data is collected using Game Addiction Scale (GAS) questionnaire, Mini International Neurophysciatric Interview (MINI), and game player data sheets. Hypothesis testing the correlation between addiction to playing games with personality disorders was analyzed by the two free sample T Test. Of the 50 gamers in the Game center that were sampled, there were 48 people who experienced personality disorders. Bivariate analysis of addiction to play games associated with personality disorders obtained p value = 0,000, the type of game not related to personality disorders obtained p value = 0.745, and the duration of playing games related to personality disorders obtained p value = 0.001. The conclusion is that there is a relationship between addiction and the duration of playing games with personality disorders. It is recommended not to always use the game so that it does not experience personality disorders.
References
1. Harahap luthfi Affandi. Transformasi Game Dota Warcraft III The Frozen Throne. Yogyakarta: UAJY. 2015:1–11.
2. Rooij AJ Van. Online Video Game Addiction. Addiction Abingdon England. 2016.
3. Novita, F.R. Putri. Hubungan Antara Self Control Dengan Intensitas Bermain Game Online Pada Mahasiswa. Fakultas Psikologi : Universitas Muhammadiyah Malang. Jurnal Psikologi Unesa. 2018;5(1);18-24.
4. Dewi, Kartika Sari. Buku Ajar Kesehatan Mental. Semarang: Lembaga Pengembangan dan Penjaminan Mutu Pendidikan Universitas Diponegoro. 2017.
5. Liu B-P, Qin P, Liu Y-Y, Yuan L, Gu LX, Jia C-X. Mental Disorders And Suicide Attempt In Rural China. Psychiatry Research. 2018;261:190-6.
6. Budhi, F.H & Endang, S.R. Hubungan Antara Kontrol Diri Dengan Kecanduan Game Online Pada Mahasiswa Pemain Game Online Di Game Center X Semarang. Jurnal Psikologi Undip. 2016;5(3):101-1109
7. Griffith, M.D., dkk. Online Computer Gaming: A Comparison Of Adolescent And Adult Gamers. Journal Of Adolescence, 2019;27(2):84-96
8. Widarti, I. Hubungan Antara Kontrol Diri Dengan Kecanduan Game Online Pada Dewasa Di Malang. Malang: Fakultas Ilmu Pendidikan UNM. Jurnal Psikologi UNM. 2017;9(1):32-41
9. Widiana, S. S. Hubungan Antara Kontrol Diri Dengan Kecenderungan Kecanduan Internet. Yogyakarta: Fakultas Psikologi UGM. Jurnal Psikologi UGM. 2015;4(4):47-55
10. Warner J. Psychiatry at a Glance. By Cornelius Katona and Mary Robertson. Oxford: Blackwell Science. 2015:80
11. Kim EJ, Namkoong K, Ku T, Kim SJ. The Relationship Between Online Game Addiction And Aggression, Self-Control And Narcissistic Personality Traits. Eur Psychiatry. 2018;12(2):210-218
12. Rikky Y, Santoso D, Purnomo JT, Sussman CJ, Harper JM, Stahl JL, et al. Masalah Adiksi Game Online pada Anak. Cdk [Internet]. 2017;43(4):262–5.
13. Beranuy, M., Carbonell, X., & Mark, D. G. A Qualitative Analysis of Online Gaming Addicts in Treatment. Int J Ment Health Addiction, 2016;11(3):149–161
14. Charlton, J. P., & Danforth, D. W. Validating The Distinction Between Computer Addiction And Engagement: Online Game Playing And Personality. Behaviour & Information Technology, 2017;29(6):601-613
15. Dickey, M. D. World of Warcraftand The Impact Of Game Culture And Playing An Undergraduate Game Design Course. Computers & Education, 2016;56(2);200-209.
16. Freeman, C. B. Internet Gaming Addiction. The Journal for Nurse Practitioners, 2018;10(2):46.
17. Hussain, Z., & Griffiths, M. D. Excessive Use Of Massively Multi-Player Online Role-Playing Games: A Pilot Study. Int J Ment Health Addiction. 2018;7(3):563-571
18. Young, K. Understanding Online Gaming Addiction and Treatment Issues for Adolescents. The American Journal of Family Therapy, 2019;37:355-372
19. Tristiana RD, Yusuf A, Fitryasari R, Wahyuni SD, Nihayati HE. Perceived Barriers On Mental Health Services By The Family Of Patients With Mental Illness. International Journal of Nursing Sciences. 2018;5(1):63-71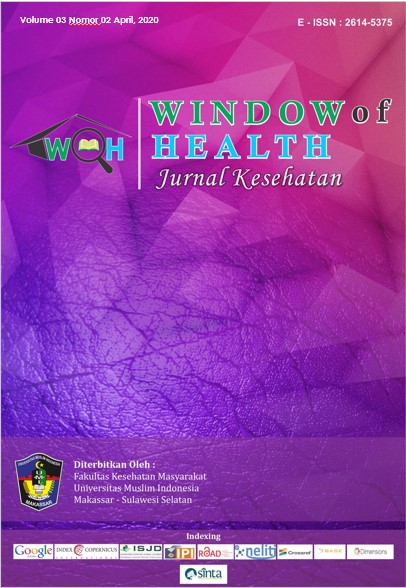 How to Cite
Wiriansya, E., Noor, A. M., Rahman, T., Abdi, D., & Ratu, A. (2020). Gangguan Kepribadian Akibat Kecanduan Bermain Game Pada Gamers. Window of Health : Jurnal Kesehatan, 186-192. https://doi.org/https://doi.org/10.33368/woh.v0i0.258
This work is licensed under a Creative Commons Attribution-ShareAlike 4.0 International License.
All articles published Open Access are free for everyone to read and download. Under the CC-BY-SA license, authors retain ownership of the copyright for their article, but authors grant others permission to use the content of publications in WoH in whole or in part provided that the original work is properly cited.
Users (redistributors) of WoH are required to cite the original source, including the author's names, WoH as the initial source of publication, year of publication, and volume number