Nephrotherapy Determination of Ethanol Extract of African Leaves (Vernonia amygdalina Delile) on with the Parameter of Male Rat Urea Induced by Gentamisin
Rizqi Nur Azizah

Fakultas Farmasi Universitas Muslim Indonesia

Irma Santi

Laboratorium Farmakologi Fakultas Farmasi Universitas Muslim Indonesia

Ayu Marlian

Laboratorium Farmakologi Fakultas Farmasi Universitas Muslim Indonesia
Keywords:
Urea, Vernonia Amygdalina Delile, Gentamicin
Abstract
African leaves (Vernonia amygdalina Delile.) contain flavonoids having an antioxidant activities. The research aimed to determine the nephrotherapy effect of the ethanolic extract of African leaves with the parameter of male rat urea (Rattus norvegicus) induced by gentamicin. The research used 18 rats divided into 6 groups consisting of group I as the normal group, group Il the Negative Control (gentamicin 80 mg I kgBW), group Ill the Positive Contfol (amino acid supplement), group IV, V, and VI given the ethanol extract of African leaves, each dose of 100 mg/kgBW, 250 mg/kgBW, 500 mg/kgBW. The induction of gentamicin 80 mg/kg BW was administered for eight days and the therapy for the ethanol extract of African leaves for fourteen days. The research data were statistically analyzed using the ANOVA test followed by the Post Hoc LSD test. The results showed that the ethanol extract of African leaves had the nephrotherapy effects in reducing the urea in male rat induced by gentamicin.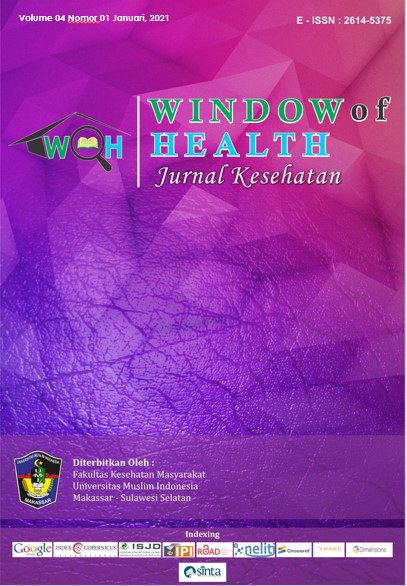 How to Cite
Azizah, R., Santi, I., & Marlian, A. (2019). Nephrotherapy Determination of Ethanol Extract of African Leaves (Vernonia amygdalina Delile) on with the Parameter of Male Rat Urea Induced by Gentamisin. Window of Health : Jurnal Kesehatan, 162-169. https://doi.org/https://doi.org/10.33368/woh.v0i0.166
This work is licensed under a Creative Commons Attribution-NonCommercial 4.0 International License.
Every accepted manuscript should be accompanied by "Copyright Transfer Agreement" prior to the article publication.