The Influence of Women's Double Role on Childhood Survival on Low Income Family in Makassar City
Nurbaeti Arifin

Universitas Muslim Indonesia
Keywords:
Role of women, Child survival
Abstract
Child morbidity and mortality rates in Makassar are generally high, especially in low-income families. One of the suspected cause factors is low child survival. This study aims to assess the multiple roles of mothers, the amount of husband's income, maternal education and levels mother's knowledge of health efforts for the survival of children in low-income families. The research method used was observational with cross-sectional study design. The samples studied are housewives in low income families (under UMP / UMK) who have children under five. The sample size was 92 people selected by purposive sampling. Data analysis is done with the help of computer. Hypothesis testing was performed by using independent T test, correlation test and Anova. The determinants of child survival were assessed on the basis of regression analysis double. The statistical test used the significance level of 0.05. It can be concluded that the survival of children in low-income families in Makassar is influenced by two factors: maternal education and knowledge about MCH, but the dominant is mother's knowledge. The result of the study explains that there is no significant influence of mother / woman involvement in working to find additional income of household while taking care of anak.Disulkan related institution (especially health department) more to increase promotion effort and quality of health service mother and child in low income family.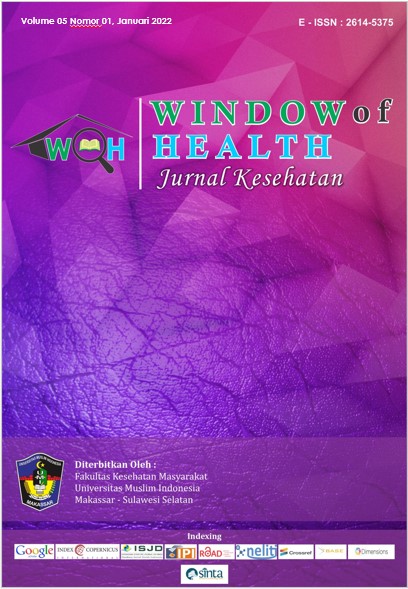 How to Cite
Arifin, N. (2018). The Influence of Women's Double Role on Childhood Survival on Low Income Family in Makassar City. Window of Health : Jurnal Kesehatan, 83-89. https://doi.org/https://doi.org/10.33368/woh.v0i0.14
This work is licensed under a Creative Commons Attribution-ShareAlike 4.0 International License.
All articles published Open Access are free for everyone to read and download. Under the CC-BY-SA license, authors retain ownership of the copyright for their article, but authors grant others permission to use the content of publications in WoH in whole or in part provided that the original work is properly cited.
Users (redistributors) of WoH are required to cite the original source, including the author's names, WoH as the initial source of publication, year of publication, and volume number