Effect of Aerobic Gymnastics on Weight Loss of Adolescent Obesity in Junior High School Catholic Rajawali Makassar Year 2017
Indriani Pratiwi

Pascasarjana Universitas Muslim Indonesia

Masriadi Masriadi

Sekolah Tinggi Ilmu Kesehatan Tamalatea Makassar

Muhammad Basri

Program Studi Ilmu Kesehatan Masyarakat Universitas Indonesia Timur
Keywords:
Physical Activity, Obesity, Aerobic Gymnastics, Youth Weight Loss
Abstract
Obesity is a multifactorial disease suspected that most obesity is caused by it interaction between genetic factors and environmental factors, including physical activity, lifestyle, and nutrisional ie feeding behavior and solid feeding is too early in infants. Obesity or overweight is troubling problems among teenagers. The purpose of this study was to analyze the effect of physical activity against weight loss adolescents who are obese in the city of Makassar. Type of research in This study was a quasi experimental pre-post test. The sample in this study consists of cases and controls, the sample of cases that amounted to 17 people, control samples that amounted to 17 people. The result of nomality test is obtained the intervention group's pretest-postest interval was 0.571 (p> 0.05), significant value for pretest-postest control group was 0.115 (p> 0.05), p intervention group value was 0.000 (p <0.05) and p value of control group is 0.000 (p <0.05), meaning that both groups are not homogeneous (no difference) weight body at pretest-postest. paired t test results showed that there is influence of physical activity (gymnastics aerobic) in the intervention group on adolescent weight loss with p value 0.045 (p <0.05) and value t count (2.170)> t table (17.05) is 1.730, in the control group there is no influence on Weight loss in adolescents as it obtained p value 0.230 (p> 0.05) and t value count (1.246) <t table (17: 0.05) is 1.730. Can be summarized in outline of this study there is influence weight loss adolescents in the intervention group or those given aerobic exercise, while for the control group there is no effect on weight loss.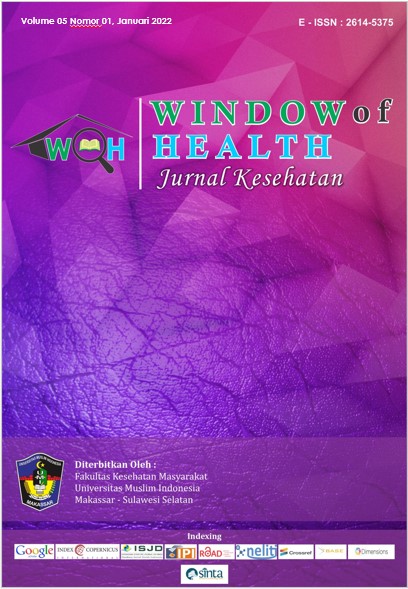 How to Cite
Pratiwi, I., Masriadi, M., & Basri, M. (2018). Effect of Aerobic Gymnastics on Weight Loss of Adolescent Obesity in Junior High School Catholic Rajawali Makassar Year 2017. Window of Health : Jurnal Kesehatan, 76-82. https://doi.org/https://doi.org/10.33368/woh.v0i0.24
This work is licensed under a Creative Commons Attribution-ShareAlike 4.0 International License.
All articles published Open Access are free for everyone to read and download. Under the CC-BY-SA license, authors retain ownership of the copyright for their article, but authors grant others permission to use the content of publications in WoH in whole or in part provided that the original work is properly cited.
Users (redistributors) of WoH are required to cite the original source, including the author's names, WoH as the initial source of publication, year of publication, and volume number