Relationship Between Old Menstruation With Hemoglobin Levels In Student Faculty Of Medicine Universitas Muslim Indonesia Bacth 2016
Dahlia Dahlia

Fakultas Kedokteran Universitas Muslim Indonesia

Rasfayanah Rasfayanah

Fakultas Kedokteran Universitas Muslim Indonesia

Citra Dewi

Fakultas Kedokteran Universitas Muslim Indonesia

Yusriani Yusriani

Fakultas Kesehatan Masyarakat Universitas Muslim Indonesia
Keywords:
Hemoglobin Level, Menstruation
Abstract
Hemoglobin is an important component in the blood. If the blood lacks hemoglobin or the amount of hemoglobin in the blood is less than the normal amount, then the body will have anemia. The purpose of this study was to determine the relationship between menstrual periods with hemoglobin levels in female students. This research is a descriptive analytic research, cross-sectional approach, using total sampling technique. Sample amounted to 99 people in Faculty of Medicine UMI. Data collection was done by using questionnaire and measuring respondent hemoglobin. Data analysis using spearman test. There were 49 female students (49.5%) who had normal menstrual period with normal hemoglobin level (≥12). There were 38 female (38.4%) students who had normal menstrual period with low hemoglobin level (< 12), there were three female students (3.0%) who had hypermenorrhoea or abnormal menstrual periods with normal hemoglobin (≥12), and 9 9.1% women who had abnormal menstruation (hypermorrhoea) with hemoglobin low (<12), and no female students had hypomenorrhoea. Based on result of analysis of test of relationship obtained value p = 0,042 (smaller than value α = 0,05). The conclusion that can be taken is there is a significant relationship between the length of menstruation with hemoglobin level in student of Faculty of Medicine UMI bacth 2016.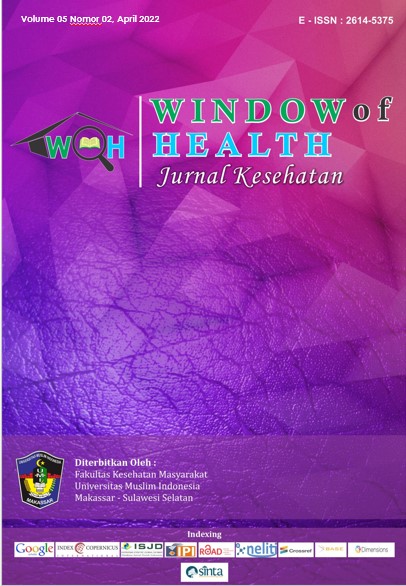 How to Cite
Dahlia, D., Rasfayanah, R., Dewi, C., & Yusriani, Y. (2018). Relationship Between Old Menstruation With Hemoglobin Levels In Student Faculty Of Medicine Universitas Muslim Indonesia Bacth 2016. Window of Health : Jurnal Kesehatan, 56-60. https://doi.org/https://doi.org/10.33368/woh.v0i0.4
This work is licensed under a Creative Commons Attribution-ShareAlike 4.0 International License.
All articles published Open Access are free for everyone to read and download. Under the CC-BY-SA license, authors retain ownership of the copyright for their article, but authors grant others permission to use the content of publications in WoH in whole or in part provided that the original work is properly cited.
Users (redistributors) of WoH are required to cite the original source, including the author's names, WoH as the initial source of publication, year of publication, and volume number