Factor Analysis Related to Treatment Compliance Former Leprosy Patient
Nurfardiansyah Burhanuddin

Program Studi Ilmu Kesehatan Masyarakat Universitas Muslim Indonesia

Andi Rizki Amelia

Fakultas Kesehatan Masyarakat Universitas Muslim Indonesia

Nurgahayu Nurgahayu

Fakultas Kesehatan Masyarakat Universitas Muslim Indonesia
Keywords:
Treatment Compliance, Leprosy Patient, Hospital
Abstract
Leprosy is a disease attached to negative views and discrimination, both within and from the community, family members or leprosy itself, such as avoiding direct contacts to be ostracized and discarded by the community from where they live. Stigma in society makes lepers alive in fear and embarrassment to be in the midst of society. Besides various names about leprosy that illustrate how dangerous and disgusting the disease is. Another thing, the existence of various beliefs about the origin of this disease causes the leprosy people feel guilty, resigned and embarrassedThe purpose of this study is to determine any factors related to the compliance of the treatment of former leprosy patients at Dr. Leper Hospital. Tadjuddin Chalid Makassar.Penelitian is this research is quantitative research, which is done to determine the effect of quality of health service to the compliance of treatment of former leprosy patients at Dr. Leper Hospital. Tadjuddin Chalid Makassar. The sampling technique of the sample is calculated using the formula quoted from Notoatmodjo (1993) with the number of samples ie 87 ex-patients in Leprosy Hospital Dr. Tadjuddin Chalidditentukan simple random sampling.Results expected in this study people who are detected as leprosy patients to routinely perform treatment in order to avoid leprosy defects resulting from leprosy.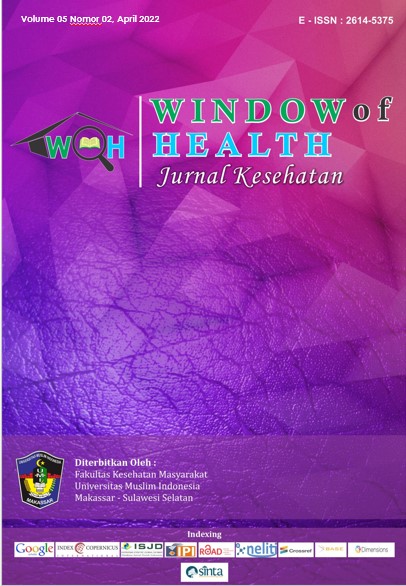 How to Cite
Burhanuddin, N., Amelia, A., & Nurgahayu, N. (2018). Factor Analysis Related to Treatment Compliance Former Leprosy Patient. Window of Health : Jurnal Kesehatan, 50-55. https://doi.org/https://doi.org/10.33368/woh.v0i0.2
This work is licensed under a Creative Commons Attribution-ShareAlike 4.0 International License.
All articles published Open Access are free for everyone to read and download. Under the CC-BY-SA license, authors retain ownership of the copyright for their article, but authors grant others permission to use the content of publications in WoH in whole or in part provided that the original work is properly cited.
Users (redistributors) of WoH are required to cite the original source, including the author's names, WoH as the initial source of publication, year of publication, and volume number