Identification of Staphylococcus Sp bacteria On Mobile And Personal Hygiene Practice Analysis
Aulia Rahman

Fakultas Kesehatan Masyarakat Universitas Muslim Indonesia

Ikhram Hardi

Fakultas Kesehatan Masyarakat Universitas Muslim Indonesia

Alfina Baharuddin

Fakultas Kesehatan Masyarakat Universitas Muslim Indonesia
Keywords:
Staphylococus sp, Handphone, personal hygiene, Mac conkey
Abstract
Mobile users every year are increasing in number. Users, use Mobile regularly throughout the day but do not clean it properly and do not wash their hands as often as possible. This will contribute to the increase of bacterial contamination on Mobile. The purpose of this study is: to determine the effect of knowledge, attitudes and actions of students on personal hygiene and the presence of bacteria on the Mobile and know the number of bacteria on the Mobile on the students. Type of research used observasional analitic Population in this research is FKG UMI students While the sample is a student of FKG UMI semester 5. Sampling technique is pupossive sampling. The result showed that from 15 cellular samples found growth of fungus sp., 5 samples showed no bacterial growth, 10 samples of bacteria Staphylococcus sp were samples in sample code 04D amounted to 2.5x104 Cfu / cm2, sample code 05E amounted to 1.8x103 Cfu / cm2, sample code 06 is 2.9 x 101 Cfu / cm2, the sample code of 10J is 2.3 x 101 Cfu / cm2, the sample code of 11K is 4.1 x 102 Cfu / cm2, the 12L sample code is 2.3x104 Cfu / cm, the 13M sample code is 2.5 x 103 Cfu / cm2, the sample code of 14N is 3.8 x 101 Cfu / cm2, the sample code 15O is 3.9 x 101 Cfu / cm2, and 1 sample with the code 08H is identified Shingomonas paucimobilis bacteria that amounted to 6.5 x 104 Cfu / cm2. Knowledge affects personal hygiene (ρ = 0.02), Attitude does not affect personal hygiene (ρ = 0.064). The action affects personal hygiene (ρ = 0.025). The highest number of bacteria on mobile is 6,5 x 104 Cfu / cm2. Identification of bacteria on mobile that is bacterium Staphylococcus sp. and bacteria Shingomonas paucimobilis. Expected to the students to further improve personal hygiene by washing hands after each use / use of mobile phones.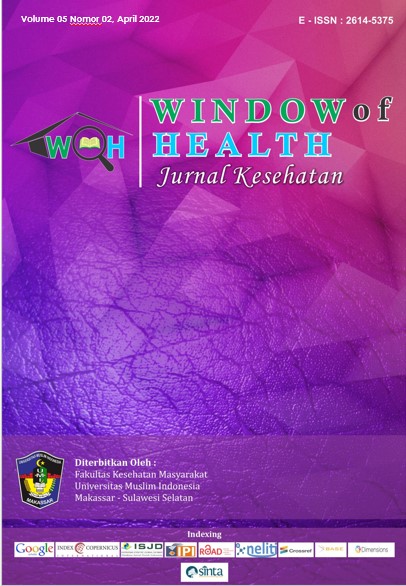 How to Cite
Rahman, A., Hardi, I., & Baharuddin, A. (2018). Identification of Staphylococcus Sp bacteria On Mobile And Personal Hygiene Practice Analysis. Window of Health : Jurnal Kesehatan, 40-49. https://doi.org/https://doi.org/10.33368/woh.v0i0.8
This work is licensed under a Creative Commons Attribution-ShareAlike 4.0 International License.
All articles published Open Access are free for everyone to read and download. Under the CC-BY-SA license, authors retain ownership of the copyright for their article, but authors grant others permission to use the content of publications in WoH in whole or in part provided that the original work is properly cited.
Users (redistributors) of WoH are required to cite the original source, including the author's names, WoH as the initial source of publication, year of publication, and volume number