Increases Knowladge Exclusive Breastfeeding at Mother in Makassar
Sundari Sundari

Prodi DIII Kebidanan FKM Universitas Muslim Indonesia

Andi Masnilawati

Program Studi Ilmu Kebidanan Fakultas Kesehatan Masyarakat Universitas Muslim Indonesia
Keywords:
Knowledge, Employment, exclusive breastfeeding
Abstract
Breast milk is the best food for babies because it contains all the necessary nutrients the baby needs in an appropriate amount and immunologic substances that protect the baby from infection. This is due to the presence of antibodies contained in ASI colostrum. Breast-fed baby can regulate energy intake associated with internal response in realizing the sense of satiety. The purpose of this study to determine the description of the level of knowledge and work with exclusive breastfeeding to mothers in Makassar. The design of this study is an analytical study using cross sectional design. Quantitative data is then analyzed descriptively in the distribution of frequency characteristics of mothers who have children 7-12 months. Chi square analysis was used to compare categorical data of influence including knowledge and work status on exclusive breastfeeding using chi square test with the help of computer program. Good knowledge of respondents about exclusive breastfeeding (67.9%) and knowledge of exclusive breastfeeding (32.1%). Distribution of working mother (54%) and distribution of unemployed mother (45,7%). Mothers who do not work choose not breastfeeding as much as 37.8%. Knowledge of the mother's exclusive breastfeeding is related to maternal actions to exclusively breastfeed to infants in Makassar. Maternal occupations are not related to maternal action to exclusively breastfeed to infants in Makassar. The conclusions of the study show that good knowledge of exclusive breastfeeding increases exclusive breastfeeding.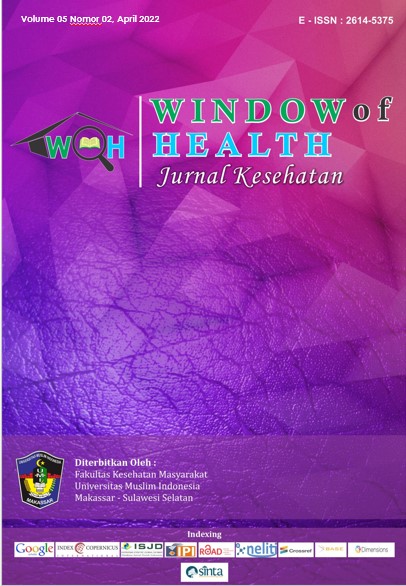 How to Cite
Sundari, S., & Masnilawati, A. (2018). Increases Knowladge Exclusive Breastfeeding at Mother in Makassar. Window of Health : Jurnal Kesehatan, 16-20. https://doi.org/https://doi.org/10.33368/woh.v0i0.11
This work is licensed under a Creative Commons Attribution-ShareAlike 4.0 International License.
All articles published Open Access are free for everyone to read and download. Under the CC-BY-SA license, authors retain ownership of the copyright for their article, but authors grant others permission to use the content of publications in WoH in whole or in part provided that the original work is properly cited.
Users (redistributors) of WoH are required to cite the original source, including the author's names, WoH as the initial source of publication, year of publication, and volume number