Elderly Gymnastics Reduces Blood Pressure in Hypertensive Elderly
Najihah Najihah

Program Studi Ilmu Keperawatan Universitas Muslim Indonesia

Rahmawati Ramli

Program Studi Ilmu Keperawatan Fakultas Kesehatan Masyarakat Universitas Muslim Indonesia
Keywords:
Gymnastics, Blood Pressure, Elderly
Abstract
Elderly tend to experience health problems caused by decreased body function due to aging process. The most common health disorder experienced by elderly is the decline of the cardiovascular system. Heart valve thickens and becomes stiff, the heart's ability to pump blood decreases by 1% per year, decreased cardiac output, decreased heart rate to stress response, loss of elasticity of blood vessels, increased blood pressure due to peripheral vascular resistance. This study aims to determine the effect of elderly gymnastics on changes in blood pressure in the elderly in the work area of ​​Rappokalling  Health Center. The research design used was pre-experiment with one group pre-test-post test, with the number of samples counted 14 people. Sampling in this research is non probability sampling. Intervention given that elderly gymnastics performed for 3 weeks with a frequency of 3 times a week duration 15-30 minutes. Data were tested with Paired Sample T-test. The results of this study indicate a significant difference in elderly gymnastics treatment to changes in systolic blood pressure (p value 0.02) and diastolic blood pressure (p value 0,000) in elderly hypertension in the work area of ​​Rappokalling  Health Center so it can be concluded there is influence of elderly exercise decrease in blood pressure in elderly hypertension and it is expected that elderly gymnastic exercises can routinely be non-pharmacological therapy in the provision of nursing care in elderly patients.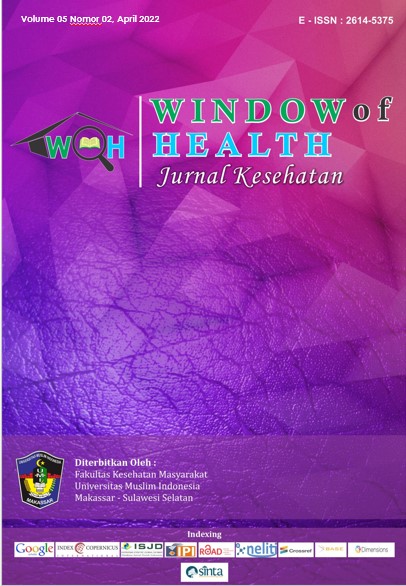 How to Cite
Najihah, N., & Ramli, R. (2018). Elderly Gymnastics Reduces Blood Pressure in Hypertensive Elderly. Window of Health : Jurnal Kesehatan, 6-9. https://doi.org/https://doi.org/10.33368/woh.v0i0.3
This work is licensed under a Creative Commons Attribution-ShareAlike 4.0 International License.
All articles published Open Access are free for everyone to read and download. Under the CC-BY-SA license, authors retain ownership of the copyright for their article, but authors grant others permission to use the content of publications in WoH in whole or in part provided that the original work is properly cited.
Users (redistributors) of WoH are required to cite the original source, including the author's names, WoH as the initial source of publication, year of publication, and volume number