Effectiveness of Kelor Dung Extract on Aedes aegypti Larvae Mortality
Alfina Baharuddin

Fakultas Kesehatan Masyarakat Universitas Muslim Indonesia
Keywords:
Effectiveness, Aedes aegypti, Moringa Dahan, Mortality
Abstract
The high number of cases of dengue fever in Indonesia, so it needs to be held vector control effort. Moringa is used as a natural anti-mosquito capable of supplying larvae. This is because there are compounds of steroids, triterpenoids, alkaloids, saponins, flavanoids, and tannins in the stem of moringa. The type of research used was experimental with post test only control group design method. The data were collected by counting the number of Aedes aegypti instar III larvae that died in each type of salinity concentration during the exposure time. The experiment was conducted 4 times, Observation, calculation and recording of the number of live and dead larvae every 24, 32, 40 and 48 hours after treatment. The data that has been collected and analyzed is then presented in tabular and narrative form. At the concentration of 3% in the Moringa leather bark estrants at the time of 24 hour measurements in each treatment of 1 (3), 2, 3, 3 (3) treatment, 4 (1) treatment with an average percentage of larva death 27 , 5%. The concentration of 3% extract of Moringa leaf bark effectively kills Aedes aegepty larvae by 45% within 48 hours. Concentration of 3.5% extract of Moringa leaf bark effectively kills Aedes aegepty larva by 45% within 24 hours. The concentration of 4% extract of Moringa leaf bark effectively kills Aedes aegepty larva by 67.5% within 24 hours. The effective exposure time of 24 hours resulted in the death of 67.5% Aedes aegypti.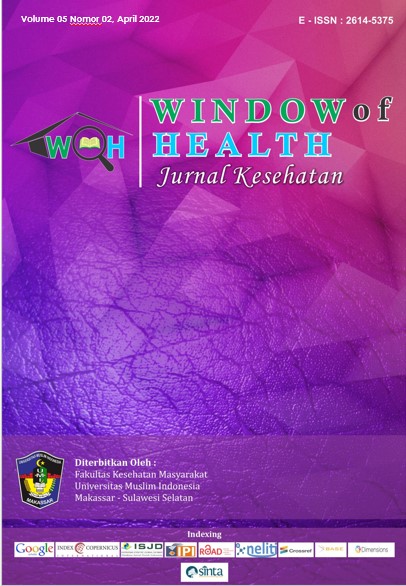 How to Cite
Baharuddin, A. (2018). Effectiveness of Kelor Dung Extract on Aedes aegypti Larvae Mortality. Window of Health : Jurnal Kesehatan, 10-15. https://doi.org/https://doi.org/10.33368/woh.v0i0.7
This work is licensed under a Creative Commons Attribution-ShareAlike 4.0 International License.
All articles published Open Access are free for everyone to read and download. Under the CC-BY-SA license, authors retain ownership of the copyright for their article, but authors grant others permission to use the content of publications in WoH in whole or in part provided that the original work is properly cited.
Users (redistributors) of WoH are required to cite the original source, including the author's names, WoH as the initial source of publication, year of publication, and volume number