Iron Intake and Prevalence Anemia Among Adolescent Aged 16-18 Years
Aprilianti Cia

Poltekkes Kemenkes Palangka Raya

Sholeha Nur Annisa

Program Studi Sarjana Kebidanan, Politeknik Kesehatan Kemenkes Palangka Raya

Hawon F Lion

Annisa2, Program Studi Sarjana Kebidanan, Politeknik Kesehatan Kemenkes Palangka Raya
Abstract
In Indonesia, the prevalence of iron nutrition anemia in adolescent girls aged 13-18 years is 22.7%. The cause is chronic blood loss, lack of iron intake, inadequate absorption of iron, and increased need for iron. Anemia causes a decrease in immunity, the concentration of learning, fitness, and productivity in young women. If allowed to affect the future such as pregnancy with anemia and the effect on babies born, the purpose of this study was to determine the relationship of iron intake, menstrual length, and age of menarche to the incidence of anemia in adolescent girls. This type of observational analytic study with Case-Control design with a total sample of 56 adolescent girls. The results showed that nutrient intake was less risky 0.551 times (95% CI 0.139-2.179) having moderate anemia compared to adolescents with adequate iron intake. Conclusion there is a significant relationship between iron intake and the incidence of anemia in adolescent girls. Suggestions for young women to increase iron intake by consuming foods that contain balanced nutrition.
References
1. Jamali D-N, Mahesar H, Bhutto MA. Prevalence of Iron Deficiency Anaemia in School and College Going Students of District Shaheed Benazirabad Sindh Province, Pakistan. Open J Blood Dis. 2016;06:67-78. doi:10.4236/ojbd.2016.64010
2. Balitbangkes RI. Laporan Hasil Riset Kesehatan Dasar Tahun 2018. Balitbangkes; 2018.
3. Fernández-Gaxiola AC, De-Regil LM. Intermittent Iron Supplementation For Reducing Anaemia And Its Associated Impairments In Adolescent And Adult Menstruating Women. Cochrane database Syst Rev. 2019;1(1):CD009218-CD009218. doi:10.1002/14651858.CD009218.pub3
4. Yunarsih Y, Antono SD. Hubungan Pola Menstruasi Dengan Kejadian Anemia Pada Remaja Putri Kelas VII SMPN 6 Kediri. J Ilmu Kesehat. 2017;3(1):25-33.
5. Kes SM, Sari MK, Fadhillah R, Ratna RN, Sartiah S. Penyuluhan Tentang Anemia Pada Remaja SMAN 12 Bandar Lampung Kemiling Permai Tanjung Karang Barat Lampung Tahun 2020. J Perak Malahayati. 2020;2(1):29-33.
6. Andriastuti M, Ilmana G, Nawangwulan S, Kosasih K. Prevalence Of Anemia And Iron Profile Among Children And Adolescent With Low Socio-economic Status. Int J Pediatr Adolesc Med. 2019;7(2):88-92. doi:10.1016/j.ijpam.2019.11.001
7. Restuti A, Susindra Y. Hubungan Antara Asupan Zat Gizi Dan Status Gizi Dengan Kejadian Anemia Pada Remaja Putri. J Ilm Inov. 2017;16. doi:10.25047/jii.v16i3.305
8. Adella EV. Penetapan Kadar Hemoglobin Pada Peminum Teh. Published online 2018.
9. Sholicha CA, Muniroh L. Correlation Between Intake Of Iron, Protein, Vitamin C And Menstruation Pattern With Haemoglobin Concentration Among Adolescent Girl In Senior High School 1 Manyar Gresik. Media Gizi Indones. 2019;14(2). doi:http://dx.doi.org/10.20473/mgi.v14i2.147-153
10. Hassand NN Al. The prevalence of iron deficiency anemia in a Saudi University female students. J Microsc Ultrastruct. 2015;3(1):25-28. doi:http://www.jmau.org/text.asp?2015/3/1/25/224529
11. Sari AA. Hubungan Asupan Protein Dan Zat Besi Dengan Kadar Hemoglobin Remaja Putri Di SMA Negeri 1 Weru Sukoharjo. Published online 2018.
12. Shariff S, Akbar N. Relationship Between Status Of Nutrition And Pattern Of Menstruation With Anemia Occurrence In The Study Program Of DIII Midwifery Universitas Muslim Indonesia. Wind Heal J Kesehat. 2018;0(0 SE-Articles). doi:https://doi.org/10.33368/woh.v0i0.10
13. Habib N, Abbasi S-U-RS, Aziz W. An Analysis of Societal Determinant of Anemia among Adolescent Girls in Azad Jammu and Kashmir, Pakistan. Anemia. 2020;2020:1628357. doi:10.1155/2020/1628357
14. Machmud A, Sharief SA, Thamrin H. Dismenorhoe Incidence In Female Students With Anemia. Wind Heal J Kesehat. Published online 2018:179-185.
15. Dumilah P, Sri Sumarmi M. Hubungan Anemia Dengan Prestasi Belajar Siswi Di SMP Unggulan Bina Insani. Amerta Nutr. 2017;1:331. doi:10.20473/amnt.v1i4.7140
16. Skřenková J. Postmenarcheal Irregularities in menstrual Cycle in Adolescent Girls. Cas Lek Cesk. 2018;157(7):343-349.
17. Rupali P, Sanjay KM. Anemia: Does it Have Effect on Menstruation? J Appl Med Sci. 2015;3(1G):514-517.
18. Asrina A. Hubungan Komunikasi Petugas Kesehatan dengan Perilaku Ibu Hamil dalam Mencegah Anemia di Puskesmas Tanjonge Soppeng. Wind Public Heal J. Published online 2020:275-285.
19. Dahlia D, Rasfayanah R, Dewi C, Yusriani Y. Relationship Between Old Menstruation With Hemoglobin Levels In Student Faculty Of Medicine Universitas Muslim Indonesia Bacth 2016. Wind Heal. 2018;1(1):56-60.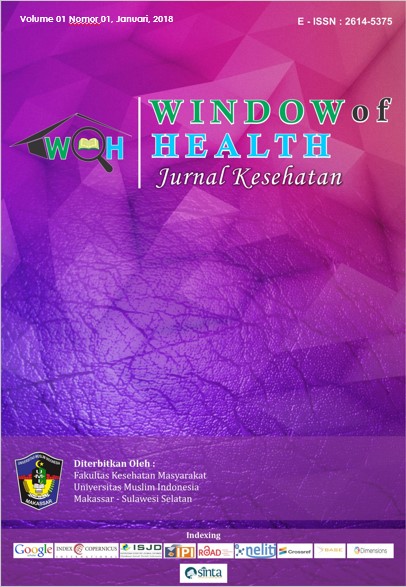 How to Cite
Cia, A., Annisa, S., & Lion, H. (2021). Iron Intake and Prevalence Anemia Among Adolescent Aged 16-18 Years. Window of Health : Jurnal Kesehatan, 144-150. https://doi.org/https://doi.org/10.33368/woh.v0i2.436
This work is licensed under a Creative Commons Attribution-ShareAlike 4.0 International License.
All articles published Open Access are free for everyone to read and download. Under the CC-BY-SA license, authors retain ownership of the copyright for their article, but authors grant others permission to use the content of publications in WoH in whole or in part provided that the original work is properly cited.
Users (redistributors) of WoH are required to cite the original source, including the author's names, WoH as the initial source of publication, year of publication, and volume number