Prevalence and Risk Factors of Final Stunting Stunting Events
Rahmawati Rahmawati

STIKes Salewangang Maros

A'immatul Fauziah

Ikeu Tanziha

Hardinsyah Hardinsyah

Dodik Briawan
Keywords:
Prevalence, Stunting, Adolescent
Abstract
The main nutritional problems of teenagers in developing countries are, among others, the less nutrition that is reflected from stunting (Fatmah, 2010). Riskesdas 2013 results show the prevalence of adolescent stunting group age 16-18 years by 31.4% (Balitbangkes, 2013). Stunting is a linear growth disorder caused by multifactors that are likely to interfere with metabolism. Research purposes is to know the prevalence of stunting in the late adolescent, and to analyze the effect of risk factors socioeconomic characteristics, consumption of milk and carbonated beverages, and physical activity of events final teenage stunting. The design of this research is cross-sectional study. This study was conducted in the month December 2014 at the Bogor Agricultural Institute (IPB). The number of sample is 488 students of TPB IPB 2014/2015. Selection of sample is done by purposive sampling, with criterion of student of TPB-IPB age 17-19 years, consume milk regularly at least 1 time per week, healthy (not being sick or have a disease), and are willing to be a research respondent. Data on socio-economic characteristics, frequency of milk consumption, and consumption of carbonated beverages with questionnaires. High anthropometric data body measured directly. The data are then presented in the form of tables and diagrams. Results research shows that the prevalence of adolescent stunting obtained from this research is 16,4%, lower if compared to 2013 Basic Health Research (Riskesdas) data for adolescents 16-18 years old national (Balitbangkes, 2013). Risk factors that affect the incidence of stunting is education father with an odds ratio (OR) of 1.912; 95% CI (1,119-3,268). Expected risk factor for late teenage stunting can decrease by increasing knowledge of stunting prevention for generations next. It is expected that the risk factor for late teenage stunting may decrease with increasing knowledge of stunting prevention for the next generation.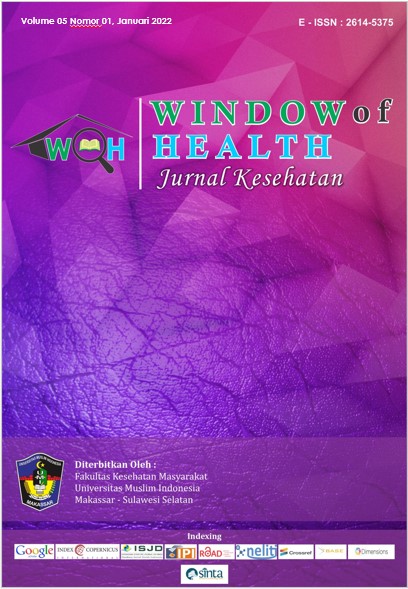 How to Cite
Rahmawati, R., Fauziah, A., Tanziha, I., Hardinsyah, H., & Briawan, D. (2018). Prevalence and Risk Factors of Final Stunting Stunting Events. Window of Health : Jurnal Kesehatan, 90-96. https://doi.org/https://doi.org/10.33368/woh.v0i0.31
This work is licensed under a Creative Commons Attribution-ShareAlike 4.0 International License.
All articles published Open Access are free for everyone to read and download. Under the CC-BY-SA license, authors retain ownership of the copyright for their article, but authors grant others permission to use the content of publications in WoH in whole or in part provided that the original work is properly cited.
Users (redistributors) of WoH are required to cite the original source, including the author's names, WoH as the initial source of publication, year of publication, and volume number