Progressive Muscle Relaxation Reduces Depression in Elderly
Wa Ode Sri Asnaniar

Universitas Muslim Indonesia

Tutik Agustini

Program Studi Ilmu Keperawatan Fakultas Kesehatan Masyarakat Universitas Muslim Indonesia
Keywords:
Progressive Muscle Relaxation, Depression, Elderly
Abstract
Aging or growing old is a process of gradual disappearance of the ability of the network to repair itself or replace and maintain its normal function so that it can not survive the infection and repair the damage it suffered (Santoso, et al, 2009) .The purpose of this study was to determine the effect of relaxation progressive muscle to depression level in elderly at Tresna Werdha Gau Mabaji Social House (PSTW) Gowa District. This research uses quasi experimental or quasi experimental method with pretest and posttest design with control group design. Population in this research is elderly who live in PSTW Gau Mabaji Gowa which amounted to 95 people. The sample used is the elderly who experienced depression that is 20 people with the technique of proportional random sampling. The intervention group numbered 10 elderly and control group amounted to 10 elderly people. All respondents followed the study until the end of the study. Test statistics by using independent t-test. There is the effect of progressive muscle relaxation on the depression of depression in the elderly. It is expected that progressive muscle relaxation can be a non-pharmacological treatment in nursing care in elderly patients with depression because it can be done alone by the elderly at all times, does not require much cost, and does not require a long time.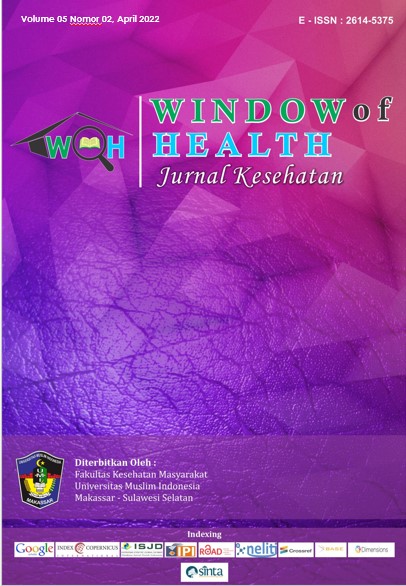 How to Cite
Asnaniar, W. O. S., & Agustini, T. (2018). Progressive Muscle Relaxation Reduces Depression in Elderly. Window of Health : Jurnal Kesehatan, 1-5. https://doi.org/https://doi.org/10.33368/woh.v0i0.1
This work is licensed under a Creative Commons Attribution-ShareAlike 4.0 International License.
All articles published Open Access are free for everyone to read and download. Under the CC-BY-SA license, authors retain ownership of the copyright for their article, but authors grant others permission to use the content of publications in WoH in whole or in part provided that the original work is properly cited.
Users (redistributors) of WoH are required to cite the original source, including the author's names, WoH as the initial source of publication, year of publication, and volume number