Factors Associated With A Ruptured Perineum On A Vaginal Birth At The Clinic Niar The Terrain Of The Year 2018
RUPTUR PERINEUM PADA PERSALINAN NORMAL
Putri Diah Pemiliana

institut kesehatan helvetia

Irma Handayani Sarumpaet

D3 Kebidanan Institut Kesehatan Helvetia Medan Indonesia

Dan Sanak Ziliwu

D4 Kebidanan Institut Kesehatan Helvetia Medan Indonesia
Keywords:
Age Of Mother, Baby Weight, Parity, Ruptured Perineum
Abstract
Introduction: Ruptured perineum due to pregnancy, parity, age of mother, baby weight, vacuum extraction, trauma tools and episiotomy. Based on data of the World HealthOrganization(WHO) going on 2.7 million cases of rupturperineum in the mother birthing. This figure is expected to reach 6.3 million by the year 2050. The purpose of : this research is to know the factors which Fotor associated with Ruptured Perineum At vaginal birth at the clinic Pratama Medan Tahun2018 N. Method: the research design used in this research is a survey of the analytic approach of using CrossSectional , sampling using the total populationwith the techniques of medical record data collection by using the statiscttestChi Square. Results: the research on test by Chi Square, the data obtained with the data of skunder test results statistc showed no relationship age mom with ruptured perineum with p =0.037 value (p = 0.04), the relationship of the weight of the baby with a ruptured perineum with p =0.041 value (p = 0,041) and the relationship of parity with ruptured perineum with p =0.003value (p = 0.003). at the clinic the year 2018 Pratama Medan N. Based on logistic regression test variable BBL has close relationship ruptured perineum against value of sig 0.61, the value of the Exp (B)/OR largest 2.510 meaning likely or highly influential BBL 2.510 times can cause the occurrence of ruptured the perineum. Conclusion : the results of data analysis and discussion that there is a relationship of maternal Age, Parity and infant's Weight with a Ruptured Perineum in vaginal birth.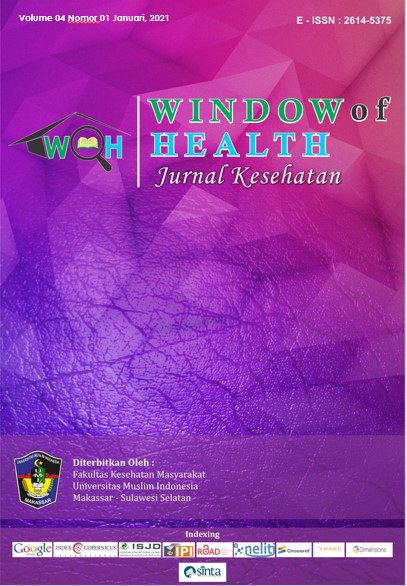 How to Cite
Pemiliana, P., Sarumpaet, I., & Ziliwu, D. (2019). Factors Associated With A Ruptured Perineum On A Vaginal Birth At The Clinic Niar The Terrain Of The Year 2018. Window of Health : Jurnal Kesehatan, 170-182. https://doi.org/https://doi.org/10.33368/woh.v0i0.184
This work is licensed under a Creative Commons Attribution-NonCommercial 4.0 International License.
Every accepted manuscript should be accompanied by "Copyright Transfer Agreement" prior to the article publication.