Analysis Of Vitamin C Level In Red And White Pepper (Punica granatum L.) Fruit Spectrophotometry UV-VIS
Andi Maulana

Universitas Muslim Indonesia

Zainal Abidin

Laboratorium Kimia Fakultas Farmasi Universitas Muslim Indonesia

Sugiarto Sadjidin

Laboratorium Kimia Fakultas Farmasi Universitas Muslim Indonesia

Tadjuddin Naid

Laboratorium Kimia Fakultas Farmasi Universitas Muslim Indonesia
Keywords:
Pomegranate, Vitamin C, Quantitative, Qualitative, Spectrophotometry
Abstract
Vitamin C is one of the nutrients that act as antioxidants derived from fruits and green vegetables, such as the pomegranate (Punica granatum L.). This study aims to analisis levels of vitamin C in meat pomegranate (Punica granatum L.) red and white with qualitative and quantitative analysis. Qualitative analysis was performed using specific reagents that ammonium molybdate, Fehling Fehling's A and B which have indicated a positive sample containing vitamin C, and vitamin C were analyzed quantitatively using UV-Vis spectrophotometry at a wavelength of 570 nm. The results showed levels of vitamin C in red pomegranate fruit flesh 0.24475 mg / g and meat pomegranate 0.11577 mg / g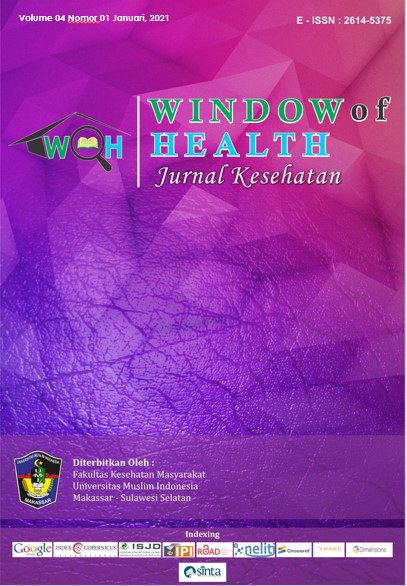 How to Cite
Maulana, A., Abidin, Z., Sadjidin, S., & Naid, T. (2019). Analysis Of Vitamin C Level In Red And White Pepper (Punica granatum L.) Fruit Spectrophotometry UV-VIS. Window of Health : Jurnal Kesehatan, 155-161. https://doi.org/https://doi.org/10.33368/woh.v0i0.168
This work is licensed under a Creative Commons Attribution-ShareAlike 4.0 International License.
All articles published Open Access are free for everyone to read and download. Under the CC-BY-SA license, authors retain ownership of the copyright for their article, but authors grant others permission to use the content of publications in WoH in whole or in part provided that the original work is properly cited.
Users (redistributors) of WoH are required to cite the original source, including the author's names, WoH as the initial source of publication, year of publication, and volume number