Isolation and Test of Anti-Bacterial Activity of Endophytic Fungi in Clove Flowers (Syzygium aromaticum L.) in Inhibiting Bacteria Causes of Dental Caries
Nabila Adelina

Fakultas Farmasi Universitas Muslim Indonesia

Fitriana Fitriana

Fakultas Farmasi Universitas Muslim Indonesia

Tadjuddin Naid

Fakultas Farmasi Universitas Muslim Indonesia

Seniwati Seniwati

Jurusan Kimia Fakultas Matematika dan Ilmu Pengetahuan Alam Universitas Hasanuddin

Septiyanti Septiyanti

Fakultas Kesehatan Masyarakat Universitas Muslim Indonesia
Keywords:
Clove flowers, TLC-Bioautography, Streprococcus mutans, Porphyromonas gingivalis
Abstract
Clove is one of the plants that has the potential as an antibacterial. Clove, besides being known as a food flavoring, also has properties as an analgesic, bacteriostatic, and treat stomach cramps. This study aims to isolate and obtain a chromatogram profile of clove flowers (Syzygium aromaticum L.) against bacteria that cause dental caries infection. The search for bioactive compounds in this study was to isolate endophytic fungi in clove flowers and then purified and tested macroscopically. Then a screening test was carried out and then continued for 21 days fermentation using Potato Dextrose Broth medium to separate the supernatant and mycelia, then extracted using ethyl acetate solvents to obtain ethyl acetate extract. Antibacterial activity testing was carried out by TLC-Bioutography method using ethyl acetate: n-hexane (4: 1) eluent. The results of this study obtained five endophytic fungi isolates that were active against the bacteria Streprococcus mutans and Porphyromonas gingivalis. Isolates that have the greatest activity, namely isolates with the code IFBC-01. The results of TLC-Bioautography obtained one speck with a value of rf: 0.67 which means it has antibacterial activity.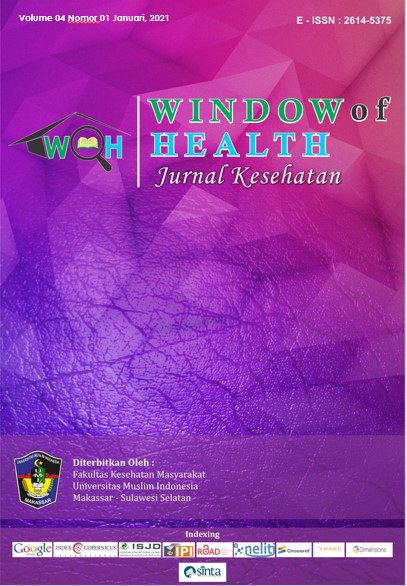 How to Cite
Adelina, N., Fitriana, F., Naid, T., Seniwati, S., & Septiyanti, S. (2019). Isolation and Test of Anti-Bacterial Activity of Endophytic Fungi in Clove Flowers (Syzygium aromaticum L.) in Inhibiting Bacteria Causes of Dental Caries. Window of Health : Jurnal Kesehatan, 148-154. https://doi.org/https://doi.org/10.33368/woh.v0i0.171
This work is licensed under a Creative Commons Attribution-NonCommercial 4.0 International License.
Every accepted manuscript should be accompanied by "Copyright Transfer Agreement" prior to the article publication.