The Coping Mechanism (Source) in Mothers Who Have Baby Blues Syndrome In The Hospital. Elim Rantepao
Lulu Alang Tulak

Akbid Bakti Nusantara Rantepao

Yusriani Yusriani

Program Studi Ilmu Kesehatan Masyarakat Universitas Muslim Indonesia

Fairus Prihatin Idris

Program Studi Ilmu Kesehatan Masyarakat Universitas Muslim Indonesia
Keywords:
coping mechanisms, baby blues syndrome
Abstract
Maternity blues classified as mild psychological disorders that are sometimes experienced by postpartum mothers. To cope with maternity blues, the mother can adopt coping mechanisms. This study aims to determine coping mechanisms in mothers who experienced maternity blues in Elim Rantepao Hospital. Type this study is a qualitative study with descriptive approach. The participants consisted of five main informants that mothers who experienced maternity blues, 3 participants support (family), and one key participant (midwife who cared for). Research results obtained show that how mother cope with stress is also highly dependent on the resources available, such as family support mothers serve as the source of the greatest coping, besides spiritual beliefs, social support, balance of energy and material, also used as a source her coping. But things are different are obtained, is heir belief or trust in which the mother perform rituals or believe to get a peace, for that in the face of maternity blues, it needed the support of the coping resources that mothers do not continue in conditions more severe disorders.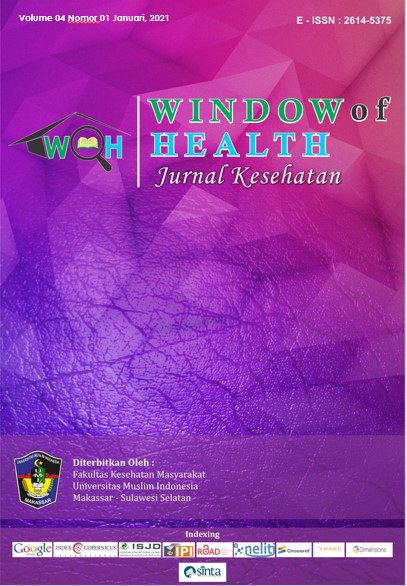 How to Cite
Tulak, L., Yusriani, Y., & Idris, F. (2019). The Coping Mechanism (Source) in Mothers Who Have Baby Blues Syndrome In The Hospital. Elim Rantepao. Window of Health : Jurnal Kesehatan, 106-115. https://doi.org/https://doi.org/10.33368/woh.v0i0.132
This work is licensed under a Creative Commons Attribution-ShareAlike 4.0 International License.
All articles published Open Access are free for everyone to read and download. Under the CC-BY-SA license, authors retain ownership of the copyright for their article, but authors grant others permission to use the content of publications in WoH in whole or in part provided that the original work is properly cited.
Users (redistributors) of WoH are required to cite the original source, including the author's names, WoH as the initial source of publication, year of publication, and volume number