Pengaruh Pemberian Kurma Ajwa (Phoenix Dactylifera L) Terhadap Hasil Luaran Perinatal Pada Wanita Risiko Preeklampsia
Lenni Sello

Akademi Kebidanan Sinar Kasih Toraja Kebidanan Makale Tana Toraja

Nasrudin Andi Mappaware

Fakultas Kedokteran Universitas Muslim Indonesia

Aminuddin Aminuddin

Departemen Nutrisi Fakultas Kedokteran Universitas Hasanuddin

Sitti Nur Asni

Departemen Nutrisi Fakultas Kedokteran Universitas Hasanuddin

Andi Nilawati

Fakultas Kedokteran Universitas Hasanuddin

Shofiyah Latief

Fakultas Kedokteran Universitas Muslim Indonesia
Abstract
Preeclampsia (PE) can cause disruption of fetal growth and fetal death in the womb. Preeclampsia is a major cause of maternal and infant mortality and morbidity. This study aims to analyze the effect of giving ajwa dates (Phoenix Dactylifera L) on the outcome of perinatal outcomes in women at risk of preeclampsia. This research was conducted at RSIA Sitti Khadijah 1 Makassar City, South Sulawesi Province. Sampling by purposive sampling. The study subjects consisted of 20 mothers who were given ajwa dates and 10 pregnant women who were not given ajwa dates, according to the inclusion and exclusion criteria. Characteristic data were measured using a questionnaire. To assess the results of the results using the calibration sheet and measuring instruments that have been calibrated are measured 1 time. Data analysis using Chi-Square. The results showed that the majority of samples had a high risk of hypertension (90%). Outcomes have the majority normal value in the group given the Ajwa date. BBL 76.6% had normal body weight, majority APGAR score ≥ 7 weeks 86.6%, and majority gestational age ≥ 37 weeks 90%. Giving ajwa dates has an effect on perinatal birth weight and APGAR Score. Further research needs to be done on the effect of ajwa dates on perinatal outcomes and the risk of preeclampsia on marker examinations such as soluble fms like tyrosine kinase 1 (sFlt-1).
References
1. Guideline N. Hypertension In Pregnancy: Diagnosis and Management. In london: National Institute For Health and Care Excellence (UK; 2019. Available from: https://www.ncbi.nlm.nih.gov/books/NBK546004/

2. English FA, Kenny LC, McCarthy FP. Risk Factors And Effective Management Of Preeclampsia. Integr Blood Press Control. 2015;8(1):7–12.

3. Gathiram P, Moodley J. Pre-Eclampsia: Its Pathogenesis And Pathophysiolgy. Cardiovasc J Afr. 2016;27(2):71–78.

4. Mayrink J, Costa ML, Cecatti JG. Preeclampsia in 2018: revisiting concepts, physiopathology, and prpediction. Sci World J. 2018;29(8):1–9.

5. Fox R, Kitt J, Leeson P, Aye CYL, Lewandowski AJ. Preeclampsia: Risk Factors, Diagnosis, Management, And The Cardiovascular Impact On The Offspring. J Clin Med. 2019;8(10):16-25.

6. Vlahos A, Mansell T, Saffery R, Novakovic B. Human Placental Methylome In The Interplay Of Adverse Placental Health, Environmental Exposure, And Pregnancy Outcome. PLoS Genet. 2019;15(8):1–17.

7. Hamad I, Abdelgawad H, Jaouni S Al, Zinta G, Asard H, Hassan S, et al. Metabolic Analysis Of Various Date Palm Fruit (Phoenix Dactylifera L.) Cultivars From Saudi Arabia To Assess Their Nutritional Quality. 2015;13(6):20–41.

8. El-Far AH, Oyinloye BE, Sepehrimanesh M, Allah MAG, Abu-Reidah I, Shaheen HM, et al. Date Palm (Phoenix Dactylifera): Novel Findings and Future Directions for Food and Drug Discovery. Curr Drug Discov Technol. 2018;16(1):2–10.

9. Razali N, Mohd Nahwari SH, Sulaiman S, Hassan J. Date Fruit Consumption At Term: Effect on Length Of Gestation, Labour And Delivery. J Obstet Gynaecol (Lahore). 2017;37(5):595–600.

10. Rahayu MA. Pengaruh Pemberian Buah Kurma Kering (Tamr) Mulai Usia Kehamilan 37mg Terhadap Kemajuan Proses Persalinan Pada Ibu Bersalin di Rumah Bersalin G Bekasi. 2012;1(1):1–10.

11. De Oliveira ACM, Santos AA, Bezerra AR, de Barros AMR, Tavares MCM. Fatores Maternos E Resultados Perinatais Adversos Em Portadoras De Pré-Eclâmpsia Em Maceió, Alagoas. Arq Bras Cardiol. 2016;106(2):113–120.

12. Tomé D, Chaumontet C, Even PC, Darcel N, Thornton SN, Azzout-Marniche D. Protein Status Modulates an Appetite for Protein to Maintain a Balanced Nutritional State - A Perspective View. J Agric Food Chem. 2019;68(7):1–19.

13. Prawirohardjo S. Ilmu kebidanan. In Jakarta Yayasan Bina Pustaka Sarwono Prawirohardjo; 2005.

14. Moshiro R, Mdoe P, Perlman JM. A Global View of Neonatal Asphyxia and Resuscitation. Front Pediatr. 2019;7(11):1–6.

15. Rossidis AC, Baumgarten HD, Lawrence KM, McGovern PE, Mejaddam AY, Li H, et al. Chronically Hypoxic Fetal Lambs Supported by an Extra-Uterine Device Exhibit Mitochondrial Dysfunction and Elevations of Hypoxia Inducible Factor 1-Alpha. Fetal Diagn Ther. 2019;45(3):176–183.

16. Zeisler H, Llurba E, Chantraine FJ, Vatish M, Staff AC, Sennström M, et al. Soluble Fms-Like Tyrosine Kinase-1 To Placental Growth Factor Ratio: Ruling Out Pre-Eclampsia For Up To 4 Weeks And Value Of Retesting. Ultrasound Obstet Gynecol. 2019;53(3):367–375.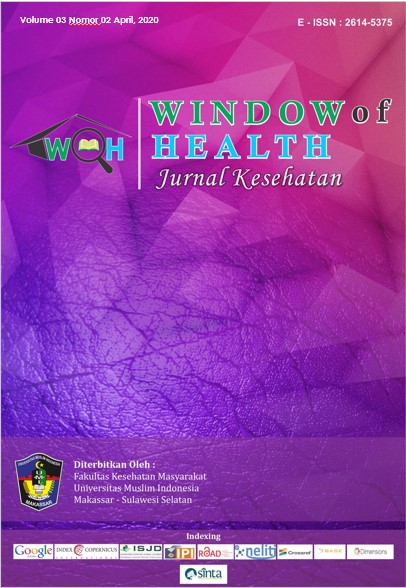 How to Cite
Sello, L., Mappaware, N., Aminuddin, A., Asni, S., Nilawati, A., & Latief, S. (2020). Pengaruh Pemberian Kurma Ajwa (Phoenix Dactylifera L) Terhadap Hasil Luaran Perinatal Pada Wanita Risiko Preeklampsia. Window of Health : Jurnal Kesehatan, 267-272. https://doi.org/https://doi.org/10.33368/woh.v0i0.345
This work is licensed under a Creative Commons Attribution-ShareAlike 4.0 International License.
All articles published Open Access are free for everyone to read and download. Under the CC-BY-SA license, authors retain ownership of the copyright for their article, but authors grant others permission to use the content of publications in WoH in whole or in part provided that the original work is properly cited.
Users (redistributors) of WoH are required to cite the original source, including the author's names, WoH as the initial source of publication, year of publication, and volume number