Isolasi Bakteri Rhizosfer Tanaman Nilam (Pogostemon cablin Benth.) yang Berpotensi sebagai Penghasil Senyawa Antibakteri terhadap Bakteri Penyebab Infeksi Saluran Pencernaan
Zakiya Maulidiyah

Laboratorium Mikrobiologi, Fakultas Farmasi, Universitas Muslim Indonesia

Seniwati Dali

Laboratorium Biokimia Fakultas Matematika dan Ilmu Pengetahuan Alam Universitas Hasanuddin

Rusli Rusli

Laboratorium Mikrobiologi Fakultas Farmasi Universitas Muslim Indonesia

Tadjuddin Naid

Laboratorium Mikrobiologi Fakultas Farmasi Universitas Muslim Indonesia
Abstract
Research on isolation of rhizosphere bacteria in patchouli (Pogostemon cablin Benth.) Plants. This study aims to obtain patchouli plant rhizosphere bacteria which have the potential to produce antibacterial compounds against bacteria that cause digestive tract infections. The first stage, isolation of bacteria originating from the patchouli plant rhizosphere. Antibacterial screening test using a match method, obtained IBRN-3 and IBRN-5 isolates inhibited the growth of all test bacteria. IBRN-3 and IBRN-5 isolates were fermented. The fermentation results are extracted with ethyl acetate solvent to produce dry fermentate ethyl acetate extract. Thin Layer Chromatography was identified on the ethyl acetate extract of IBRN-3 and IBRN-5 using chloroform: methanol (8: 1) eluent and followed by TLC-Bioautography test. The results of spotting on IBRN-3 with Rf value 0.93 inhibited the bacteria E. coli, S. aureus, Rf value 0.82 inhibited B. subtillis, S. dysenteriae, Rf value 0.64 inhibited S. aureus and S. thypii, Rf value 0.89 , 0.36, 0.24 inhibited S. dysenteriae, Rf values ​​0.84 and 0.74 inhibited S. aureus. Whereas for IBRN-5, spots were obtained with an Rf value of 0.91 inhibiting B. subtillis, E. coli S. thypii, an Rf value of 0.95 inhibiting S. aureus S. dysenteriae, an Rf value of 0.84 inhibiting B. subtillis, S. thypii, Rf value of 0.83 inhibits S. dysenteriae, and Rf value of 0.74 inhibits S. thypii.
References
1. Novita Maylia Eka C. Daun Kemangi (Ocinum Cannum) Sebagai Alternatif Pembuatan Handsanitizier. KESMAS - J Kesehat Masy [Internet]. 2014;9(2):136–42. Available from: https://journal.unnes.ac.id/nju/index.php/kemas/article/view/2843
2. Alba S, Bakker MI, Hatta M, Scheelbeek PFD. Risk Factors of Typhoid Infection in the Indonesian Archipelago. 2016;1–14.
3. Anorital, Andayasari L. Kajian epidemiologi penyakit infeksi saluran pencernaan yang disebabkan oleh amuba di indonesia. 2011;21:1–9.
4. Naveed A, Ahmed Z. Treatment of Typhoid Fever in Children : Comparison of Efficacy of Ciprofloxacin with Ceftriaxone. 2016;12(6):346–55.
5. Krisna IG, Pratama Y, Lestari AAW. Sebagai metode diagnosis cepat demam tifoid. 2(1):70–3.
6. Ambarwati A. ISOLASI ACTINOMYCETES PENGHASIL ANTIBIOTIK TERHADAP Escherichia coli DAN Staphylococcus aureus. J Penelit Sains Teknol. 2011;8(1):14.
7. Widiastutik N, Alami HN. Isolasi dan Identifikasi Yeast dari Rhizosfer. J SAINS DAN SENI POMITS. 2014;3(1):11–6.
8. Syarifuddin A, Kamal S, Yuliastuti F, Pradani, Missya Putri Kurnia; Septianingrum NMAN. EKSTRAKSI DAN IDENTIFIKASI METABOLIT SEKUNDER DARI ISOLAT AL6 SERTA POTENSINYA SEBAGAI ANTIBAKTERI TERHADAP Escherichia coli (Extraction and Identification of Secondary Metabolites from AL6 Isolates and Its Potential as Antibacterial against Escherichia c. J Bioteknol BIOSAINS Indones. 2019;6(December):210–8.
9. Simatupang DS. BERBAGAI MIKROORGANISME RIZOSFER PADA TANAMAN PEPAYA ( Carica papaya L .). Institut Pertanian Bogor; 2008.
10. Amin M, Utami N, Satria H, Simanjuntak W. Fermentasi Hidrolisat Onggok Dengan Menggunakan Mikroba Endofitik. Bandar Lampung; 2013.
11. Mustari M, Djide MN, Mahmud I, Hasyim N. UJI DAYA HAMBAT DAN ANALISIS KLT-BIOAUTOGRAFI PERASAN BUAH SAWO MANILA (Achras Zapota Linn) TERHADAP BAKTERI UJI Salmonella Thyposa Mardiyah. Media Kesehat Masy Indones. 2011;7(1):25–7.
12. Rante, Herlina; Wahyono; Murti, Yosi B;Alam G. Purifikasi dan karakterisasi senyawa anti- bakteri dari actinomycetes asosiasi spons terhadap bakteri patogen resisten. Maj Farm Indones. 2010;21(3):158–65.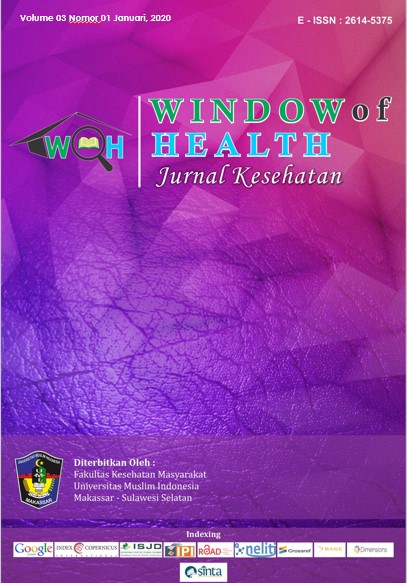 How to Cite
Maulidiyah, Z., Dali, S., Rusli, R., & Naid, T. (2020). Isolasi Bakteri Rhizosfer Tanaman Nilam (Pogostemon cablin Benth.) yang Berpotensi sebagai Penghasil Senyawa Antibakteri terhadap Bakteri Penyebab Infeksi Saluran Pencernaan. Window of Health : Jurnal Kesehatan, 132-139. https://doi.org/https://doi.org/10.33368/woh.v0i0.295
This work is licensed under a Creative Commons Attribution-ShareAlike 4.0 International License.
All articles published Open Access are free for everyone to read and download. Under the CC-BY-SA license, authors retain ownership of the copyright for their article, but authors grant others permission to use the content of publications in WoH in whole or in part provided that the original work is properly cited.
Users (redistributors) of WoH are required to cite the original source, including the author's names, WoH as the initial source of publication, year of publication, and volume number