Adaptasi Dan Validasi Instrumen KIDSCREEN-27 Versi Bahasa Indonesia
Dewi Utari

Universitas Jenderal Achmad Yani Yogyakarta

Ratna Lestari

Departemen Keperawatan Keluarga dan Komunitas Fakultas Kesehatan Universitas Jenderal Achmad Yani Yogyakarta
Abstract
The changes that occurred to cancer patients have affected the quality of life of both the patients and their family including the children. However, the tool to assess the adolescent quality of life is rarely found in the Indonesian version. Therefore,  this study aimed to adapt and validate the instrument KIDSCREEN-27 into the Bahasa Indonesia version. This research was applied to a cross-cultural adaptation procedure which consists of five-phase. First is a translation, synthesis process, back translation, expert analysis, and the last is reliability. The research was involved 30 adolescents aged 11 – 18 years old who have a mother with cancer. The cancer patients were derived from the hospital of RSUD Panembahan Senopati Bantul. The data was obtained from January – February 2019. This was used as a purposive sampling technique along with the content validity index (CVI) and reliability test which performed Alfa Cronbach. The result of the content validity index (CVI), I-CVI and S-CVI from three different experts was 1.00. Meanwhile, the value of Alpha Cronbach's was 0.893. The internal consistency of 5 domains in the range value of α 0.654 – 0.840 with the highest is family and free time and the lowest is friends.  The instrument of  KIDSCREEN -27 Bahasa Indonesia version is valid and reliable, thus, is able to assist the health care provider to examine the adolescent's quality of life.
References
1. Kementerian Kesehatan Republik Indonesia. Bulan Peduli Kanker Payudara. Kementerian Kesehatan Republik Indonesia; 2016.
2. Yogyakarta Di. Profil Kesehatan D. I. Yogyakarta Tahun 2018. 2018;
3. Bultman Jc, Beierlein V, Romer G, Moller B, Koch U, Bergelt C. Parental Cancer: Health-Related Quality Of Life And Current Psychosocial Support Needs Of Cancer Survivors And Their Children. Ijc Int J Cancer. 2014;135:2668–77.
4. Huizinga Ga, Visser A, Zelders-Steyn Ye. Psychological Impact Of Having A Parent With Cancer. 2010;
5. Götze H, Ernst J, Brähler E, Romer G, Klitzing K Von. Predictors Of Quality Of Life Of Cancer Patients , Their Children , And Partners. Psychooncology. 2014;24(2015):787–95.
6. Gothwal Vk, Bharani S, Mandal Ak. Parent-Child Agreement On Health-Related Quality Of Life In Congenital Glaucoma. Transl Vis Sci Technol. 2018;7(4):9–15.
7. Power R, Akhter R, Muhit M, Wadud S, Heanoy E, Karim T, Et Al. Cross-Cultural Validation Of The Bengali Version Kidscreen-27 Quality Of Life Questionnaire. Bmc Pediatr. 2019;19(19):1–10.
8. Nezu S, Iwasaka H, Saeki K, Obayashi K. Reliability And Validity Of Japanese Versions Of Kidscreen-27 And Kidscreen-10 Questionnaires. Environ Health Prev Med. 2016;21(3):154–63.
9. Baydur H, Erg D, Eser E. Reliability And Validity Study Of The Kidscreen Health-Related Quality Of Life Questionnaire In A Turkish Child / Adolescent Population * Yaşam Kalitesi Ölçeğinin Geçerlilik Ve Güvenilirliği. Anatol J Psychiatry. 2016;17(6):496–505.
10. Andersen Jr. Is The Kidscreen-27 A Valid Measure Of Health-Related Quality Of Life In 10-Year-Old Norwegian Children? Peerj. 2015;(May 2015).
11. Berman Ah, Liu B, Ullman S, Jadbäck I, Engström K. Children's Quality Of Life Based On The Kidscreen-27: Child Self-Report, Parent Ratings And Child-Parent Agreement In A Swedish Random Population Sample. Plos One. 2016;11(3):1–15.
12. Pardo-Guijarro Mj, Woll B, Moya-Martínez P, Martínez-Andrés M, Cortés-Ramírez Ee, Martínez-Vizcaíno V. Validity And Reliability Of The Spanish Sign Language Version Of The Kidscreen-27 Health-Related Quality Of Life Questionnaire For Use In Deaf Children And Adolescents. Gac Sanit [Internet]. 2013;27(4):318–24. Available From: Http://Dx.Doi.Org/10.1016/J.Gaceta.2012.11.003
13. Beaton De, Bombardier C, Guillemin F, Ferraz Mb. Guidelines For The Process Of Cross-Cultural Adaptation Of Self-Report Measures. Spine (Phila Pa 1976). 2000;25(24):3186–91.
14. Janssens A, Rogers M, Coon Jt, Allen K, Green C, Jenkinson C, Et Al. A Systematic Review Of Generic Multidimensional Patient-Reported Outcome Measures For Children , Part Ii : Evaluation Of Psychometric Performance Of English-Language Versions In A General Population. Value Heal [Internet]. 2015;18(2):334–45. Available From: Http://Dx.Doi.Org/10.1016/J.Jval.2015.01.004
15. Ribeiro C, Lino Dm, Brüggemann Om, Souza Mdl De, Fátima S De. The Cross-Cultural Adaptation Of Research Instruments , Conducted By Nurses In Brazil : An Integrative Review. Texto Contexo Enferm. 2017;26(4):1–11.
16. Zamanzadeh V, Ghahramanian A, Rassouli M, Abbaszadeh A, Alavi- H. Design And Implementation Content Validity Study : Development Of An Instrument For Measuring Patient-Centered Communication. J Caring Sci [Internet]. 2015;4(2):165–78. Available From: Http://Dx.Doi.Org/10.15171/Jcs.2015.017
17. Polit Df, Beck T, Owen S V. Focus On Research Methods Is The Cvi An Acceptable Indicator Of Content Validity ? Appraisal And Recommendations. Res Nurs Health. 2007;30:459–67.
18. Vélez Cm, Lugo-Agudelo Lh, Hernández-Herrera Gn, García-García Hi. Colombian Rasch Validation Of Kidscreen-27 Quality Of Life Questionnaire. Health Qual Life Outcomes [Internet]. 2016;14(1):1–10. Available From: Http://Dx.Doi.Org/10.1186/S12955-016-0472-0
19. Zaki R. Validation Of Instrumen Measuring Continuous Variable In Medicine. In: Advances In Statistical Methodologies And Their Application To Real Problems. 2017.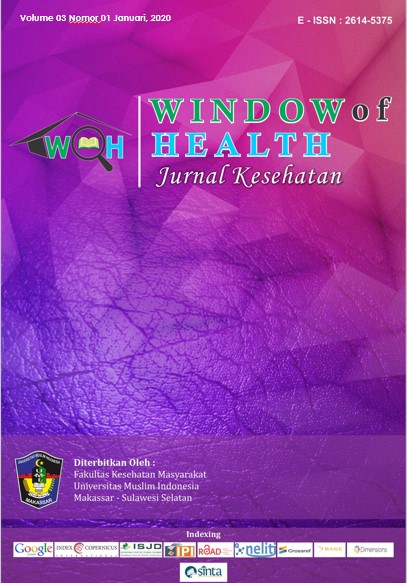 How to Cite
Utari, D., & Lestari, R. (2020). Adaptasi Dan Validasi Instrumen KIDSCREEN-27 Versi Bahasa Indonesia. Window of Health : Jurnal Kesehatan, 176-185. https://doi.org/https://doi.org/10.33368/woh.v0i0.293
This work is licensed under a Creative Commons Attribution-ShareAlike 4.0 International License.
All articles published Open Access are free for everyone to read and download. Under the CC-BY-SA license, authors retain ownership of the copyright for their article, but authors grant others permission to use the content of publications in WoH in whole or in part provided that the original work is properly cited.
Users (redistributors) of WoH are required to cite the original source, including the author's names, WoH as the initial source of publication, year of publication, and volume number