Sistem Perencanaan Logistik Obat Di Puskesmas
Putri Permatasari

Universitas Pembangunan Nasional Veteran Jakarta

Rafiah Maharani Pulungan

Fakultas Ilmu Kesehatan Universitas Pembangunan Nasional Veteran Jakarta

Marina Ery Setiawati

Fakultas Ilmu Kesehatan Universitas Pembangunan Nasional Veteran Jakarta
Abstract
Planning is the most important stage in meeting the needs of medicines in health services. In the Cikulur health center, there were vacancies and excess drugs for certain drug items. Good drug needs planning at the puskesmas consists of the stage of drug selection, compilation of drug use, calculation of drug needs, and projection of drug needs. Poor drug planning causes the advantages and disadvantages of the drug. The purpose of this research is to know the drug logistics planning system in the Health Center in Cikulur in 2019. The type of research is a descriptive evaluation study with qualitative methods carried out in the Health Center in Cikulur. Research subjects were the head of the puskesmas, the person in charge of the drug warehouse, the pharmacy officer, and the doctor. Data collection by in-depth interviews, document searches and observations. Data analysis with the process of content analysis and data triangulation. The results showed that the selection of drugs in the Cikulur health center in Lebak district was based on data from the Use Report and Drug Request Sheet (LPLPO), prescription drug recipe, drugs used most, and disease patterns. Compilation of drug use can be seen from the LPLPO data, drug reports, drug stocks, daily prescription papers from this data can be known how much the remaining stock, the amount of usage, and the amount of expenditure. The method of calculating the need for drugs used is a method of consumption. Projection of drug needs is not accurate because there are still empty and excess drugs. It is hoped that it can improve the drug needs planning process so that it can evaluate the problem of division of labor in drug selection, improve teamwork, as little as possible complete the data needed for projection activities and make a drug report that is lacking, by setting a policy or Standard Operating Procedures, so that it is easy in determining the right drug type and amount in accordance with needs.
References
1. Alam, H. S., Sudiro and Purnami, C. Pengembangan Sistem Informasi Pemantauan Alat Kesehatan Untuk Mendukung Penjaminan Mutu Pelayanan Kesehatan di Balai Kesehatan Indera Masyarakat (BKIM) Provinsi Jawa Tengah, Jurnal Manajemen Kesehatan Indonesia, 2016; 4(3):187–195.

2. Barus, M. Sistem Pelaksanaan Manajemen Logistik Alat Kesehatan di Puskesmas Kabupaten Deli Serdang Tahun 2015. Medan: Universitas Sumatera Utara. 2015.

3. Dey, S. and Chattopadhyay, S. 'Assessment of Quality of Primary Healthcare Facilities in West Bengal', International Journal of Research in Geography. 2018; 4(2):22–33.

4. Keputusan Menteri Kesehatan Republik Indonesia Nomor: 1121/Menkes/SK/XII/2008 tentang Pedoman Teknis Pengadaan Obat Publik dan Perbekalan Kesehatan untuk Pelayanan Kesehatan Dasar. Jakarta: Departemen Kesehatan. 2008.

5. Reski, V., Sakka, A., Ismail, S.C. Analisis Perencanaan Obat Berdasarkan Metode ABC Indeks Kritis di Puskesmas Kandai Tahun 2016. Journal Ilmiah Mahasiswa Kesehatan Masyarakat. 2016;1(4):20-28

6. Peraturan Kepala Badan Nasional Penanggulangan Bencana Nomor 13 Tahun 2008 tentang Pedoman Manajemen Logistik dan Peralatan Penanggulangan Bencana. Jakarta: Badan Nasional Penanggulangan Bencana. 2008.

7. Safriantini, D ., Ainy, A., Mutahar, R. Analisis Perencanaan dan Pengadaan Obat di Puskesmas Pembina Palembang. Jurnal Ilmu Kesehatan Masyarakat. 2017;2(1):89-95

8. Peraturan Menteri Kesehatan Republik Indonesia Nomor: 58 Tahun 2014 tentang Standar Pengelolaan Obat Rumah Sakit. Jakarta: Menteri Kesehatan Republik Indonesia. 2014.

9. Peraturan Menteri Kesehatan Republik Indonesia Nomor: 74 Tahun 2016 tentang Standar Pelayanan Kefarmasian di Puskesmas. 2016. Jakarta: Menteri Kesehatan Republik Indonesia

10. Faruq, Z. H., Badri, C. and Sodri, A. Penilaian Manajemen Peralatan Laboratorium Medis di RSUD Se Provinsi DKI Jakarta, Labora Medika. 2017;1(1):16–20.

11. Hendrayani, A. Pengaruh Pendampingan Inspeksi Perawatan Pencegahan (Preventive Maintenance) Alat Kardiografi, Jurnal Penelitian Kesehatan Suara Forikes, 2017;8(1):11–16.

12. Kasengkang, R. A., Nangoy, S., & Sumarauw, J. Analisis Logistik (Studi Kasus Pada PT. Remenia Satori Tepas-Kota Manado). Jurnal Berkala Ilmiah Efisiensi, 2016;16(1):750-759.

13. Rosmania, F.A. & Supriyanto, S. Analisis Pengelolaan Obat Sebagai Dasar Pengendalian Safety Stock pada Stagnant dan Stockout Obat. Jurnal Administrasi Kesehatan Indonesia. 2015;3(1):1-10.

14. Mangindara. Analisis Pengelolaan Obat Di Puskesmas Kampala Kecamatan Sinjai Timur Kabupaten Sinjaitahun 2011. Jurnal AKK, 2012;1(1):20-28

15. Malinggas, Novianne E. R, dkk. Analisis Manajemen Logistik Obat di Instalasi Farmasi Rumah Sakit Umum Daerah DR Sam Ratulangi Tondano. Jurnal JIKMU. 2015;5(2):448-460.

16. Djatmiko, M dan Eny Rahayu. Evaluasi Sistem Pengelolaan Obat di Instalasi Farmasi RSUP Dr. Kariadi Semarang Tahun 2017.Jurnal Ilmu Farmasi dan Farmasi Klinik. 2018;5(1):27-31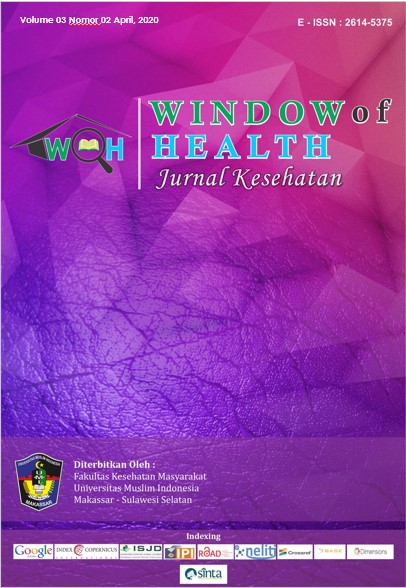 How to Cite
Permatasari, P., Pulungan, R., & Setiawati, M. (2020). Sistem Perencanaan Logistik Obat Di Puskesmas. Window of Health : Jurnal Kesehatan, 193-201. https://doi.org/https://doi.org/10.33368/woh.v0i0.262
This work is licensed under a Creative Commons Attribution-ShareAlike 4.0 International License.
All articles published Open Access are free for everyone to read and download. Under the CC-BY-SA license, authors retain ownership of the copyright for their article, but authors grant others permission to use the content of publications in WoH in whole or in part provided that the original work is properly cited.
Users (redistributors) of WoH are required to cite the original source, including the author's names, WoH as the initial source of publication, year of publication, and volume number