Hubungan Riwayat Pola Menyusui, Usia Penyapihan dan Emotional Bonding terhadap Status Gizi pada Balita
Hasriwiani Habo Abbas

Program Studi Ilmu Kesehatan Masyarakat Fakultas Kesehatan Masyarakat Universita Muslim Indonesia

Nur Alifah Wulandari

Fakultas Kesehatan Masyarakat Universitas Muslim Indonesia Makassar

Ayu Lestari

Fakultas Kesehatan Masyarakat Universitas Muslim Indonesia Makassar

Nurfardiansyah Burhanuddin

Prodi Ilmu Kesehatan Masyarakat Fakultas Kesehatan Masyarakat Universitas Muslim Indonesia
Keywords:
Toddler, Emotional Bonding, Nutritional Status
Abstract
Human quality is a harmonious and balanced blend between physical, mental (spiritual) and social. One of the determinants of human quality is the fulfillment of nutritional needed through foods that contain nutrients needed by humans. Nutrition has an important dimension in improving the quality of human resources. Related research analyzes the factors associated with emotional bonding to nutritional status in children under five in. This type of research is an observational analytic using cross-sectional studies, in the Bontorannu Kelurahan, Mariso District, Makassar City. The sample is non-random sampling: purposive sampling.
The results showed the nutritional status of under-fives as many as 90 toddlers (60%), while the nutritional status of under-fives which were 60 toddlers (40%), there was a relationship of research on nutritional patterns to nutritional status where p = 0,000 <α = 0.05 with the number toddlers by estimating eating patterns lacking 66.7% and sufficient 33.3%. The age of weaning under five with less than 75 (83.3%), while 15 (16.7%) were sufficient. From the results of statistical tests there is a relationship between age and nutritional status of children. For unsafe emotional ties as many as 36 children under five (17.3%) and safe as many as 114 children under five (82.7%). From the statistical test results obtained there is a relationship of emotional ties to the nutritional status of children under five where p = 0,000 <α = 0.05. The warmth that arises from breastfeeding assistance in a pattern of help that supports and supports the bond between mother and baby. This is a natural way to feed baby so it improves the nutritional status of children and provides a very strong emotional closeness.
References
1. Azwar, A. Kecenderungan Masalah Gizi dan Tantangan Dimasa Depan. Directorat Gizi Masyarakat Depkes RI (2004).
2. Kementrian Kesehatan Republik Indonesia (2012).
3. Syafriana, S. Kekurangan Energi Protein pada Balita. Jakarta. (2017).
4. Yuanta, Yohan, dkk. Hubungan Riwayat Pemberian Asi dan Pola Asuh Ibu dengan Kejadian Gizi Kurang Pada Anak Balita di Kecamatan Wongsorejo Banyuwangi. Jurnal Kesmadaska. 48 : 56. (2018).
5. Soekirman. Ilmu Gizi dan Aplikasinya untuk Keluarga dan Masyarakat. Ditjen Diksi. Jakarta : Departemen Pendidikan Nasional. (2002).
6. Departemen Kesehatan RI. Prevalensi Kejadian Gizi Buruk Indonesia. Jakarta. (2013).
7. Dinas Kesehatan Kota Makassar (2014).
8. Jedrychowski, Ferera F, et al. Effect Of Exclusive Breastfeeding On The Development Of Children's Cognitive Function In The Krakow Prospective Birth Cohort Study. Eur J Pediatz;171(1): 151-158. NIH Public Acess. (2012).
9. Rouli, Nababan. Akhir Masa Menyusui. Jakarta. PT. A Gramedia Pustaka. (2011).
10. World Health Organization (WHO). (2018).
11. Rasmaniar. Faktor Risiko Emotional Bonding terhadap Status Gizi Baduta, Thesis Mahasiswa Pascasarjana Universitas Hasanuddin (2008).
12. Supartini, Y.2004 Konsep Dasar Keperawatan Anak. Penerbit Buku Kedokteran EGC.Jakarta.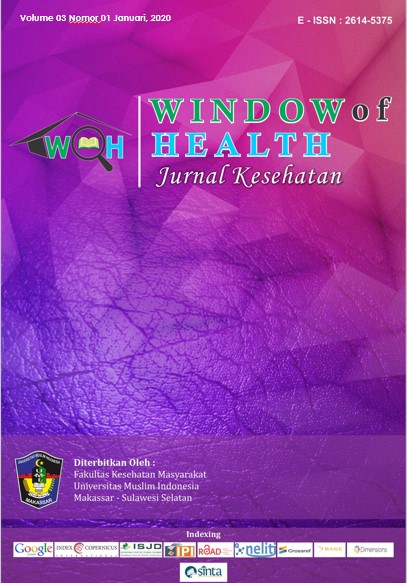 How to Cite
Habo Abbas, H., Wulandari, N., Lestari, A., & Burhanuddin, N. (2020). Hubungan Riwayat Pola Menyusui, Usia Penyapihan dan Emotional Bonding terhadap Status Gizi pada Balita. Window of Health : Jurnal Kesehatan, 116-122. https://doi.org/https://doi.org/10.33368/woh.v0i0.249
This work is licensed under a Creative Commons Attribution-ShareAlike 4.0 International License.
All articles published Open Access are free for everyone to read and download. Under the CC-BY-SA license, authors retain ownership of the copyright for their article, but authors grant others permission to use the content of publications in WoH in whole or in part provided that the original work is properly cited.
Users (redistributors) of WoH are required to cite the original source, including the author's names, WoH as the initial source of publication, year of publication, and volume number